The Price of a wedding car
How much is the cost of hiring a wedding car for transporting the bridal party to the ceremony and wedding venue in 2022 and 2023. This is something that every couple to be (or parents of) need to know. Also who travels in the bridal party cars? and what time should the Groom arrive? These are some of the main questions we get asked about your wedding transport requirements.
So how easy is it to find a price for hiring wedding cars. Eg. the cost to hire a wedding vehicle for say your daughters wedding. Then get a price for a modern wedding car or vintage car, is the first question.
Here at Simons white wedding cars, it's very easy. Just click the get instant quote button and we will show you our prices for wedding car hire. We will also answer your wedding car hire questions.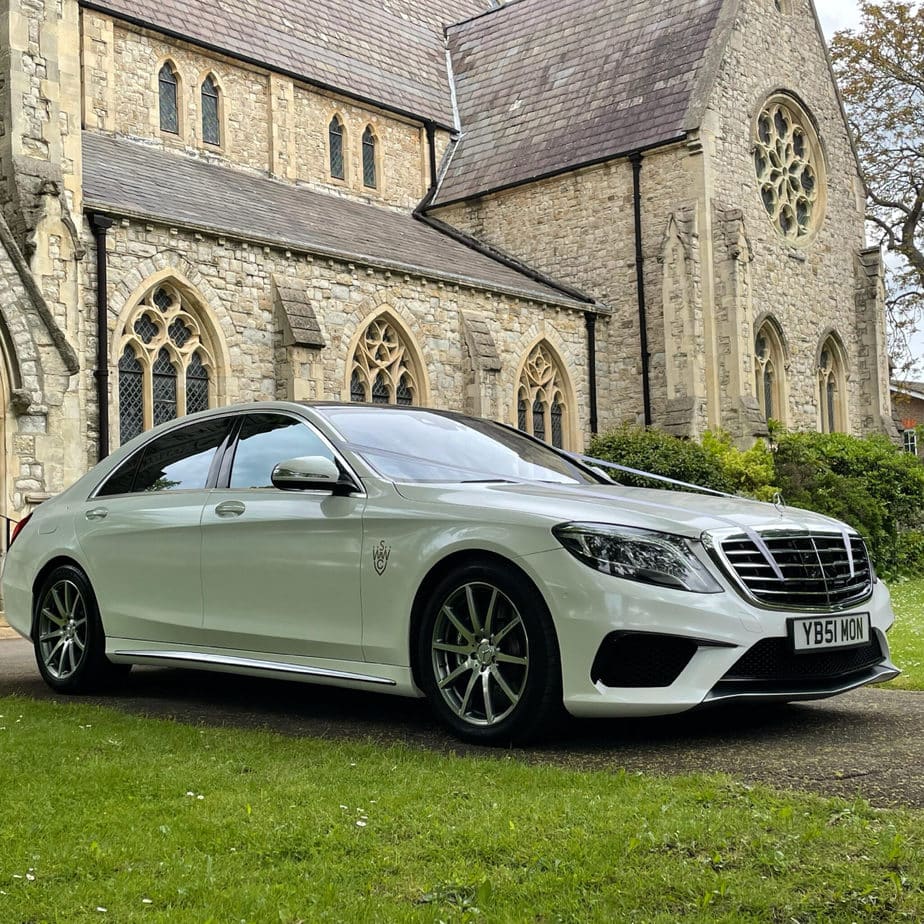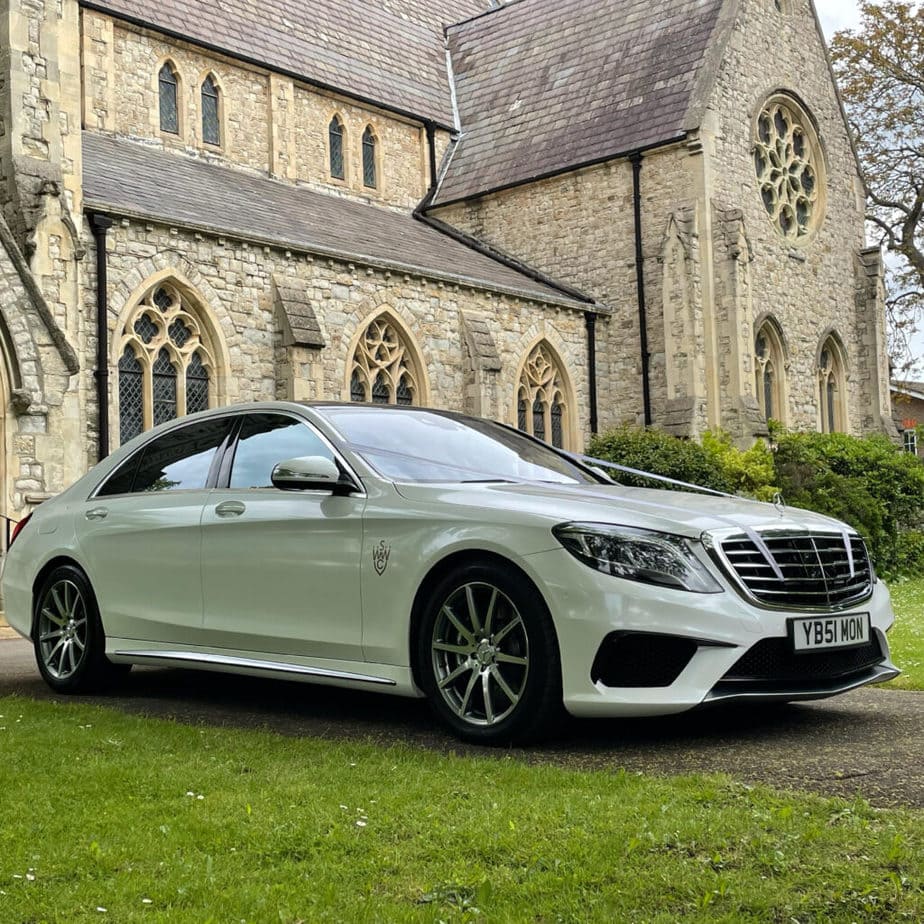 Wedding transport hire options
The options for your wedding transport is huge and varies in price, depending on the service and vehicle your require.
So, for example you could just hire a taxi for £50 and ask them to put some ribbons on it. I admit, it is a bit of a risk, you don't know who sat in the seat just before you, maybe little billy eating his sweets and dropping them on it.
Or you could hire a supercar for £1000 for your big entrance. Or maybe anything in-between the two.
The fact is, it will depend on your budget and your tastes in life.
Some couples to be will say they have a theme and look for transport to fit in with it. In all honesty, I am never too sure how that works always. By which I mean, if your wedding theme was a rustic reception, why do you need to scrap the luxury car for say a camper van.
Surely the day is about you and the finer things to make it as special as possible.
So let's move on and we will explain why costs vary so much and how you could save money on your wedding cars.
Why do prices vary on wedding transport
Cost of wedding transport. In simple terms, it's about the service and the car. Not all cars or services are the same and offer different standards and levels of luxury. Also the level of service provided by the wedding car chauffeur.
Some companies provide a driver, others a professional chauffeur. You will receive a much better level of service with a professional chauffeur. They will enhance your special day, with the care and attention you receive.
The size and luxury of the car hired. Example: A Mercedes C Class will be a lot cheaper than a Mercedes S Class. Yes they are both Mercedes, but the C Class is an entry level small family saloon.
The S Class is the Mercedes luxury flagship for their brand, a luxury specification and of course a lot bigger. Hence, why it is used for all top executive luxury transfers and wins awards every year for the best luxury executive chauffeured driven car. So the cost of your wedding transport will vary depending on the vehicle you choose.
The Wedding vehicle you choose
So, the size, standard and type of cars you choose will have an impact on the wedding car price. This varies with different types of wedding parties. Whether transporting the bridal party to the wedding ceremony and reception venue. Maybe just the bride and father of the bride on your special day. So choose the right type of car for your wedding day transport needs. Remember the bride and groom will also be transported after the wedding. Also some companies if time allows, will do multiple trips for you.
Also think about the size of your car, wedding dress and bridesmaids dresses. It would be pointless having a wedding vehicle too small to comfortably fit you and your dress. Also if its summer, does your chosen transportation have climate control? The last thing you want for your wellbeing on your big day is to be stressing and uncomfortable. Five things to consider for your perfect wedding car hire services.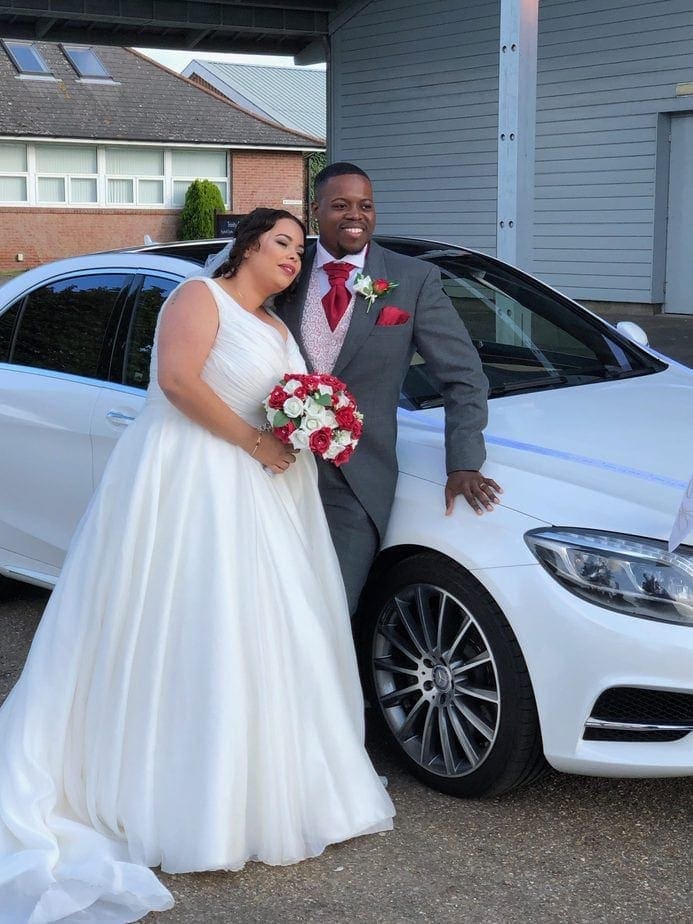 Modern Wedding cars
The age of the vehicle will also have an impact on the cost of a wedding car, for many reasons, example a 3-5 year old car is going to cost more than a 10-15 year old car. Moreover think of your own personal car 10 years ago and now.
Technology, safety features and luxury features have all been improved for your convenience and safety. Hence in most cases the newer cars will cost more, exception being classic wedding cars of course. Vintage wedding cars? This is normally a car that was produced between 1919 and 1930, of course with both of these they are replica models.
Mileage
A wedding vehicle hire cost is also based on the miles the car does during its hire. Similar to a taxi for example, if you asked a taxi to travel 40 miles away from you.
It would be a lot more expensive than one travelling from 5 miles away from you. Of course you need to get to the ceremony and wedding venue. So most companies will include a standard mileage allowance in the wedding car price.
A local wedding car near me
If you have a local wedding car company near you, this should be the cheapest. For example, a local Rolls Royce from say Southend on Sea if that was were you needed transport from.
Would be cheaper than a Rolls Royce travelling 25 miles to get to you. Presuming the cars and services are like for like. Unless you need a particular type of car or service? A local wedding car rental will always be cheaper to transport the bridal party because of the mileage the car does.
Wedding car options
Most wedding car companies will provide ribbons and silk flowers as standard and some will offer the option of ribbon choice to colour match your wedding day theme. Some suppliers will offer complimentary bubbly for the bridal car, which is a clever way of saying processco, sparkling wine or cheap champagne.
Others offer branded champagne, some may just supply glasses and an ice bucket. The ones that just offer to supply glasses and an ice bucket, probably realise that they do not have a premises licence to sell or serve alcohol.
I personally take my hat off to these companies not wanting to break the law. The others, well I can only say that in our District for example, there are maybe 30 companies advertising free bubbly. I know we are the only company licensed to actually supply alcohol. It's free I hear you say, no it's part of the package with the wedding car therefore we require a license. If it was free, you could just go to their office and ask for a glass of bubbly for example and they would say it's with the car booking.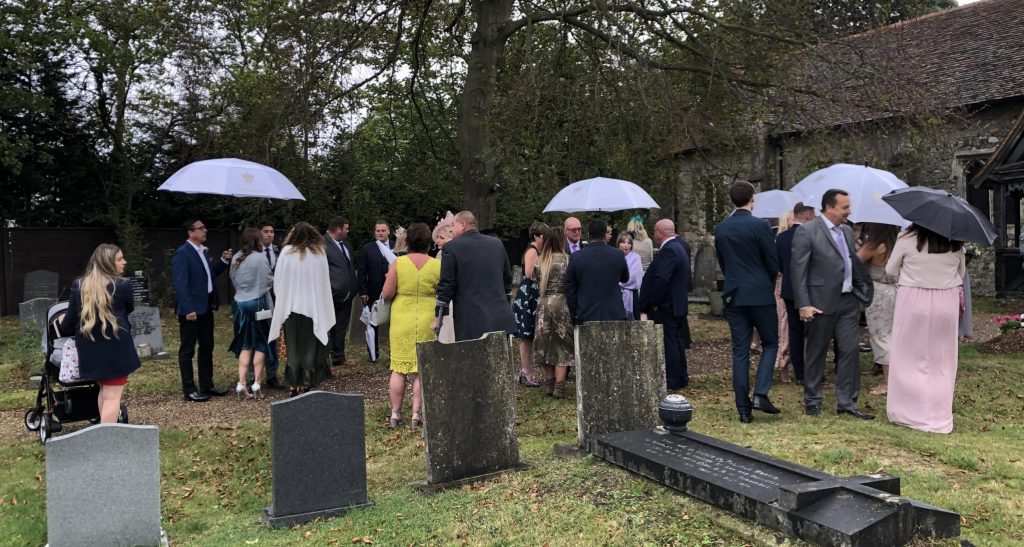 Length of wedding car rental
Another factor of course is the amount of time you have the car for. Some companies will only do one wedding a day. Normally professional wedding chauffeur hire companies. Thus ensuring their full focus and attentions on that wedding party and their special day.
This is normally a 3 hr hire as standard. Hence this gives you enough time for multiple trips to transport the bridal party. Also photos and even a private drive for the happy couple. Some companies will do just a pick up and drop off. Obviously this is cheaper, but often the car is rushing off to another booked job and if you are delayed you may loose your car.
Wedding Vehicles
Some people think it's just about putting ribbons on a car. This is normally very far from the truth for most companies. As an example I wish they could have a day with us. On your wedding day, the car is washed and hoovered. Then prepared with ribbons and flags on the outside.
Moreover the freshly washed and ironed napkins are placed in the car. Cooling towels are made and placed with the chilled water and branded Champagne in either the car fridge or cooling box. The washed blankets are folded and placed in a box in the boot. Then the route and weather is checked again.
If it's forecast rain, more white umbrellas are placed in the boot. If any roadworks or delays are found on your chosen route, we adjust our times. Finally time to get washed and suited. It's all above the care of your wellbeing and attention to detail that we supply for all our weddings.
We now leave and aim to arrive at least 30 minutes before the booked time. On its arrival the car is cleaned again and the vehicle set up for its first trip. Well, that's how we do it, for more info click Luxury chauffeured wedding car hire for your special day.
Your wedding day wellbeing, we have you covered. Our customer service is dedicated to delivering the perfect wedding transport for your needs. As is our wedding chauffeur hire to serve you a first class service.
Free wedding car upgrade? Please refer to our terms & Conditions
Can I get an Instant wedding car hire cost
Summary
Yes you can get a wedding hire car cost instantly online
You can book your wedding chauffeur hire services instantly online
A large luxury wedding vehicle will cost more than a small wedding vehicle
Local, a local wedding car hire company near you should always be your cheapest quote, like for like
3hr wedding car rental will cost more, but gives you a lot more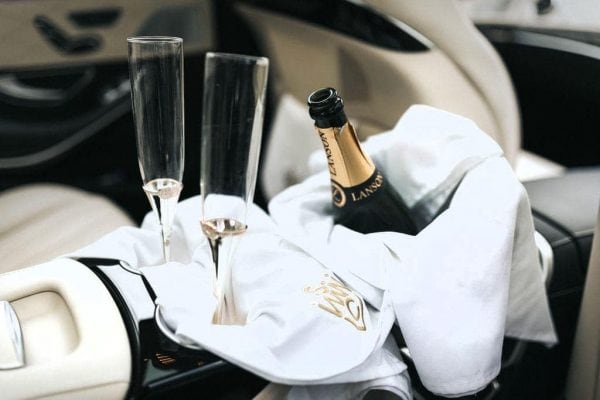 Wedding vehicle rental cost
With our instant wedding car hire price. Our standard wedding car price list is shown straight away. Once you enter your wedding day date, it will show you the vehicles available. Choose you vehicle and options, you will have your quote within 60 seconds.
Yes in 60 seconds you will know your wedding transport rental prices, now that is instant. Moreover we provide an easy to use quick guide to aid you with the mileage calculation. Also with our live booking system, we show you the available vehicles for your special day. Together with our standard wedding car price list.
Simply just select the County your wedding is in. Say Essex for example, now select your local town or nearest town to your desired pick up address. Say Braintree for example, your estimated mileage is now shown.
No other wedding chauffeur company offers you more help, more choices, more luxury and more included to achieve the perfect transport for your bridal party.
Consequently we don't just provide a wedding car hire! Our white glove luxury chauffeured wedding car service provides you with the ultimate luxury wedding vehicle experience for you and your wedding party in our fleet of chauffeur driven wedding cars.
Instant online wedding vehicle hire price
How easy? With our instant online wedding car rental price, the answer is very easy, so no need to wait for emails for your wedding car hire cost.
This is just how easy it is:
Enter your required date. The wedding hire cars available are now shown.
Select your desired vehicle and mileage package
Your online quote is now shown
If desired, add your bespoke features and extras to the price
Book your wedding car hire services instantly online
Yes it really is that easy to get an instant online quote and price for your wedding car transport.
Luxury wedding transport service
Unlike any other wedding transport company, we provide a luxury white gloved wedding car hire service experience for your bridal parties wellbeing. Which we deliver in our luxury chauffeur driven fleet of Mercedes Limousine's and limo's. After all this why SWWC was set up to deliver the finest luxury wedding transport experience in Essex, Suffolk, Hertfordshire, London and Cambridgeshire.
We offer more choice with our bespoke options, which you can personalise to your wedding theme. Moreover you also have the choice of 6 chauffeur uniforms to choose from, these have been tailor made to our designs and are totally bespoke to Simon's white wedding cars. Our customer service is always at hand to answer any questions you may have.
We also offer the same level of service for our luxury private car hire.
Consequently covering our Luxury Yes to the dress transport and honeymoon airport transfer.
Please contact us for further details.
Find the price of a wedding car