How to get an Instant wedding car quote online
Get an instant wedding car hire quote online with Simon's White wedding cars within 60 seconds. No more filling in forms and waiting for emails. Wedding car hire cost, instantly see the prices and the availability of your chosen wedding vehicle for your special day. Just select your luxury chauffeur driven Mercedes limousine hire or limo hire
See instantly the availability of our wedding cars
How? Just enter your desired date and we will show you our available vehicles and our 2021, 2022 & 2023 standard wedding car price list.
Then simply use the quick guide to help with your wedding transport mileage if needed.
1. Select your County, say Essex for example.
2. Then select the town or nearest town to where you require your wedding transport, say Braintree for example.
3. The wedding car distance guide will now show Braintree, Essex 50 miles for example.
4. Now enter your mileage choice and choose your wedding car options and your  wedding car hire quote and  price is shown instantly.
Instant quote showing your wedding car price
So that is how easy it is. Why waste time filling in forms and waiting for emails?  When you can have a instant wedding car hire price!  Moreover, you can choose to personalise your luxury wedding car hire.  Choose from six chauffeur uniforms to match your classic, modern or vintage wedding theme.  Just select to personalise your car ribbons and flags. After all this is the biggest day of your life.
So, again the wedding cars hire quote is instantly updated to show your new price and of course you can also upgrade or choose your chauffeurs uniform for your special day, or even upgrade your champagne option.
Whatever you choose to do, your wedding car hire price is always instantly updated. Showing the exact cost of your wedding limo. So, by choosing your options to suit your perfect wedding day and to achieve the perfect wedding cars, you now have the perfect instant wedding car quote. So what next?
Wedding transport mileage quick guide
Simple mileage guide to quickly workout the required mileage package needed for your luxury wedding cars.
We know that the cost of wedding car hire is based around the mileage the vehicle or vehicles do. So consequently to help you with this we have developed a quick guide for this special occasion.
The guide covers your wedding transport needs with our cars, in Essex, Suffolk, Bedfordshire, Hertfordshire, London, Cambridgeshire, Norfolk and Kent.  Just select the county you are having your wedding in, then select the town or nearest town in the surrounding areas.
The mileage needed for your wedding car hire price is now shown.
Example if you choose Essex, the list of towns in the surrounding areas are:  Colchester, Braintree, Halstead, Harwich,  Dunmow, Stansted, Saffron Walden, Maldon, Witham. Southend, Chelmsford, Basildon, Clacton, Harwich, Brentford, Billericay, Romford, Grays and Harlow.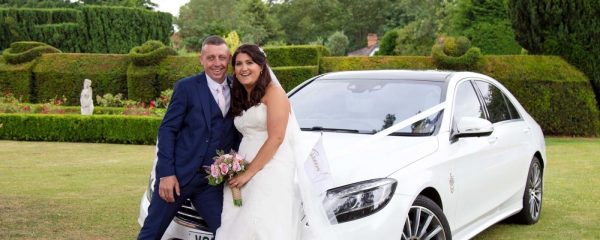 Book your wedding car instantly online
Hopefully you are  happy with your instant quote and have now chosen the options you require for your special day.  So, how easy is it to instantly book your chosen wedding car?
Just click the book now button and you will be taken though to checkout.
It's here you will be asked to enter your details and pay the £100  48hr holding fee.  Congratulations, you have now received your instant online wedding car hire price and instantly booked your luxury wedding car.  So what next?
Confirming your instant wedding car price and booking
Congratulations you have hopefully created the perfect wedding cars to suit your wedding day theme.  Simon's White wedding cars will contact you within 48 hours to confirm you're booking.  Why do we do this?  Because we understand that mistakes can be made.
So, we will contact you asking for you to supply the itinerary of your wedding day transport needs. This consists of times for departures and arrivals.  Also, the addresses of these, plus the number of people you require transport for.
We will now check the mileage on the details you provided in your itinerary and that the number of people can be transported in the ultimate comfort, style and luxury.  We will also check the timings work and advise you of any necessary changes needed to the prices. So what next?
Confirmation of your booking
Simon's White wedding cars will email within 48hrs to confirm your booking.  If the mileage you have chosen is correct and the number of people fit into the chosen luxury car. We will confirm that your date is booked.
If the chosen mileage or the number of people chosen to fit in the wedding car is incorrect, we will contact you and advise you. We will provide you with a new quote for your wedding transport requirements.
If the chosen mileage is wrong, we will advise you with the correct price. You can either accept the new quote to complete the booking or cancel the booking. If you cancel the booking, we will refund you £90 of your £100 deposit.
The remaining balance on your booked wedding car is due 10 weeks before your booked date.
Alternatively you can select our wedding car hire payment choices. This will give you the option to spread the cost and pay monthly.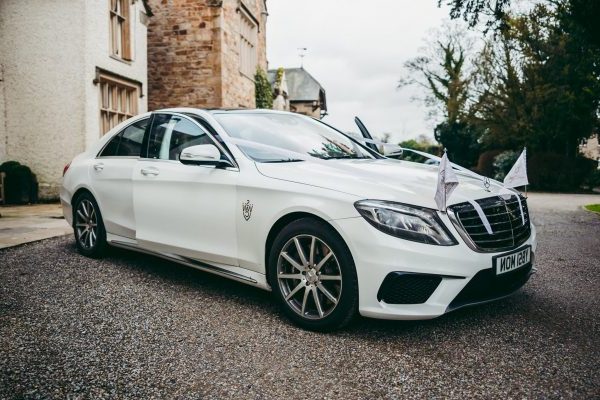 Luxury wedding car hire
So having now booked your wedding car, we will advise you of how we will serve you on your special day.  Also, we will liaise with you though out your wedding journey up to your big day. We will advise if we can do multiple trips in your chosen wedding cars. We will advise you to read our luxury chauffeur services article. Then discuss with you how we can best fit our luxury white glove services around your classic wedding day. So ensuring on this special day of your life, you arrive in style.
10 weeks before your booked date, we will contact you to confirm your itinerary again. We understand that things can change. At this point you also pay the balance due of your booking.
Again, in the last few weeks before the booking, we will contact you, confirming all the details again. On the eve and the day of your wedding, we check the routes and the weather.
So if we discover any road works or potential hold ups we will contact you and change the times on the wedding transport itinerary. This is because the last thing we want is you stressing on your wedding day.
Providing the perfect wedding day experience whatever the weather
If it's forecasted to rain, we will add more umbrellas to the car. Also if it's cold and your having outside photos, we will add more blankets to the wedding cars. Similar on hot days, we add more chilled water and cooling towels to your luxury wedding cars.
Whatever life throws at you on your wedding day, we aim to have you covered with our luxury white gloved chauffeured wedding car service.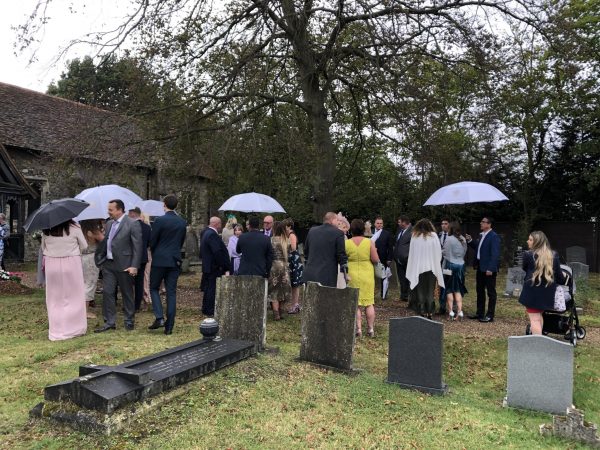 Wedding car payment options
Here at Simons White wedding cars we understand that everybody is different. That's why we are quite happy for you to pay for your wedding car on your terms. This can be monthly and spread over the time before your booked wedding date or as above.  We care about your well-being though out your journey with us.
Please contact us for further information on how we can spread the cost of your wedding car hire price.
Instant quote and booking system for your wedding car hire in Essex, Suffolk, London, Cambridgeshire and Hertfordshire
Header photo of Woodhall Manor in Woodbridge, Ipswich Suffolk