The Best Wedding Car service in Suffolk
The most Luxurious wedding cars Suffolk has to offer.  We provide the finest luxury wedding car hire service. Simon's White Wedding Cars is a white glove chauffeur driven wedding car hire service available throughout Suffolk. We have an extensive fleet of the finest white wedding cars that make the perfect bridal car, grooms car or bride and grooms car for your Suffolk wedding.
Your wedding is one of the most important events of your life. So it's only right that the wedding cars taking you to and from the venue is just as special!
Our unique white glove service will deliver the best luxury experience for your wedding party.  Whatever your theme, we have the cars and service to surpass your expectations for hiring wedding cars.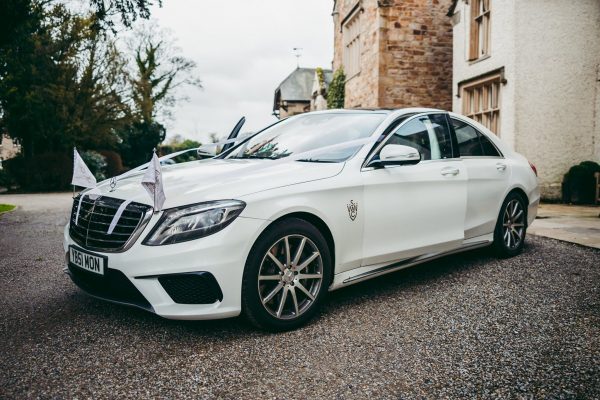 VIP minibus wedding vehicle hire
We also have a range of VIP minibuses and a VIP mini coach available to hire for your transport needs. These luxurious vehicles can transport up to 13 people in their first class cabins. These are no ordinary minibuses, this are the height of luxury travel. So now as well as providing the finest Suffolk luxury wedding car hire. We also provide the finest Suffolk luxury VIP mini bus or coach hire for your big day.
Quite often we transport the bridal party to the venue the night before the wedding. This is popular if your marriage is all at the same venue.
So treat yourself and start your wedding journey in the finest first class wedding transport in Suffolk.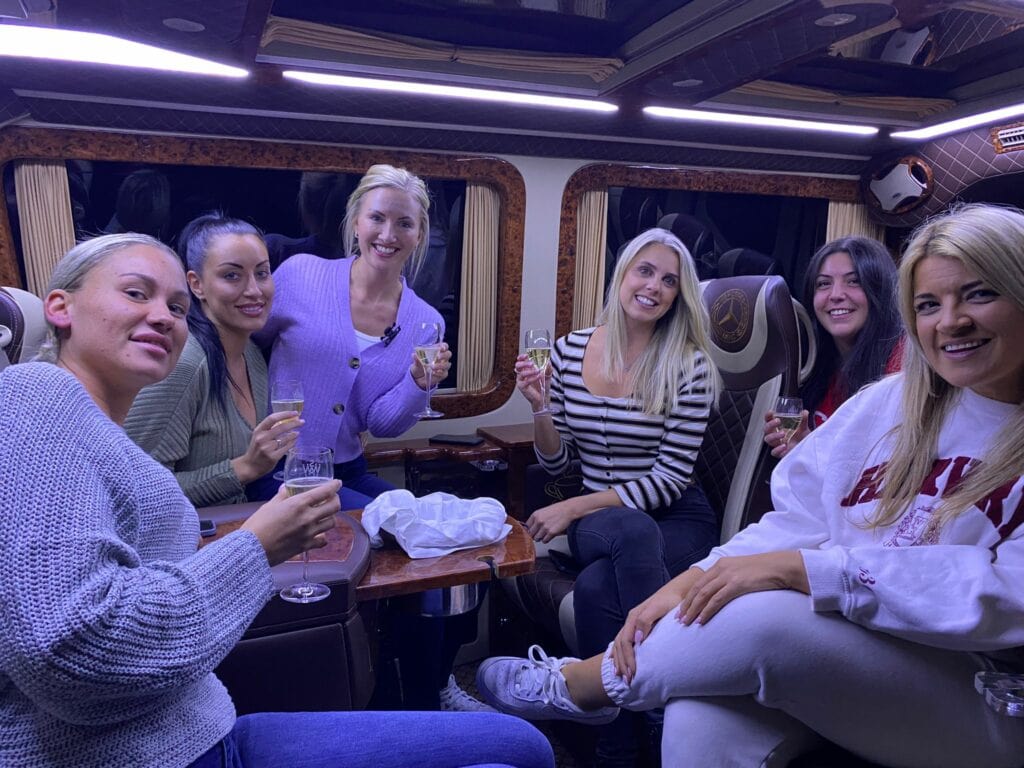 Wedding cars in East Anglia
Suffolk is an East Anglian county of historic origin in England. It has borders with Norfolk to the north, Cambridgeshire to the west and Essex to the south. Famous for Newmarket in the west and its famous racing stables. Previously the county was formerly known for its Suffolk draft horses, also called Suffolk Punch. Also known for the fabulous saint Simon of Bury St. Edmunds.
This rural landscape was where the painter John Constable was born, and where he painted his most celebrated works. Dedham Vale is another of the celebrated paintings by John Constable. The painting which depicts a scene from what is now the Dedham Vale and Stour Valley Area of Outstanding Natural Beauty.
Picturesque Suffolk
Moreover there are few places in Britain more picturesque than Constable Country in Suffolk. So making it the ideal setting for your outstanding day.
You can explore this stunning landscape on foot via one of the many Dedham walks, following the valley through picturesque villages such as Flatford, Dedham, Stratford St Mary and Stoke-by-Nayland. Alternatively, you could see Constable Country from the water, by renting or boarding a boat at one of several places along the River Stour.
Set within Area of Outstanding Natural Beauty between Colchester and Ipswich. Just two hours from London and the Midlands.
So is in fact is the dream setting for your dream wedding day. Simons white wedding cars are proud to be based in Sudbury Suffolk. Thus providing the local luxurious transport needed for your unique event.
By providing our luxury chauffeur driven white glove service for the transport requirements on your wedding day. Luxurious cars befitting to the beautiful countryside of the county.  We have a range of stretched Limousines and limos to hire,  ideal for your Suffolk luxury wedding car.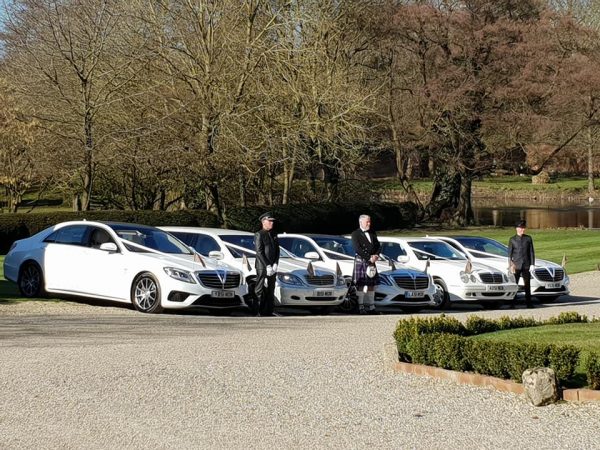 Wedding cars Suffolk
With our local Suffolk wedding car service. You will be chauffeur driven to your wedding venue in a beautiful vehicle of your choosing. When you hire  wedding cars from us, you get much more than just a vehicle to drive you around on your special day.
You get a white glove service with an experienced and courteous wedding chauffeur. That will accommodate the every need of your bridal party and ensure that you arrive at your wedding venue on time and in style. Whether it's a luxury Mercedes stretch limousine for the bridesmaids, a modern sports wedding car for the groom, or an elegant wedding vehicle for the happy couple or bride and groom.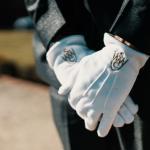 As Suffolk's finest wedding transport hire service, we know that the small touches make a big different on your special  day. Your luxury wedding cars are fitted with all the bells and whistles. A few examples including branded champagne, cooling towels, heated seats, cooling seats, climate control, flat screen televisions. Everything to make your journey that bit more special.
 Luxury Wedding vehicles
Luxury wedding cars to hire in Suffolk. We offer an extensive range of wedding vehicles for your special day. Supplied for the bride and groom parties to hire throughout this beautiful county.
Providing the largest fleet of white Mercedes S class limos for hire in East Anglia. Also offering 2 Mercedes 6 door stretched limousines for parties needing transport for 6 people.
Furthermore, we can also supply a VIP Mercedes Sprinter minibus for parties needing to transport up to 8 guests.
Instant quote and booking system
For your convenience, we provide an online instant quote and booking system. So you can have the price of your wedding vehicle hire in 60 seconds.
Instantly showing the availability of your chosen chauffeur driven wedding car and the wedding car hire cost. Choices, you choose how you would like to pay for your wedding vehicle hire.
Moreover you can view the interiors of all our luxury Mercedes wedding vehicles. Instantly see the interior of your chosen wedding transport and have 360 look around the car.
Enjoy a life of luxury as you head to your venue in Suffolk! All of our luxurious white wedding cars are spacious and comfortable, with various size options to suit your budget and requirements for your perfect wedding day.
Whether it's a large bridal party, just the bride and groom, or anything else you may need. If you are planning for a big wedding in Suffolk, we think nothing is more suitable for the occasion than our elegant white wedding cars.
White glove wedding chauffeur service
Our white glove wedding chauffeur service will take you on a relaxing ride through the beautiful Suffolk countryside. Enjoy taking in all the sights that the south-east county has to offer while you enjoy a glass (or two!) of complimentary branded champagne.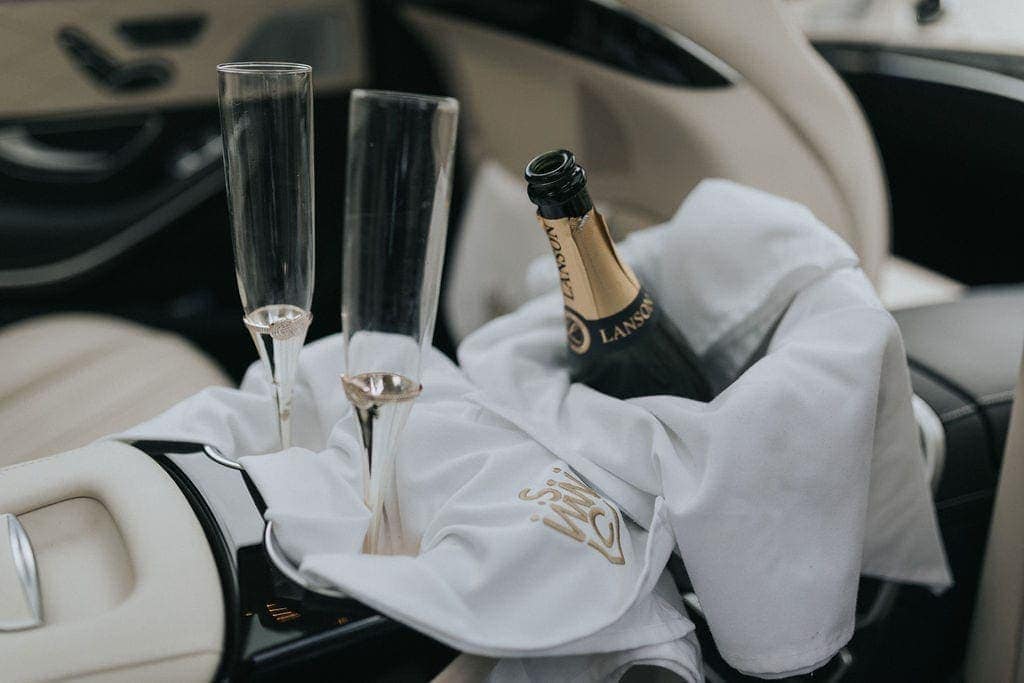 Our white glove wedding service was designed to deliver the ultimate wedding transport journey.  A luxury experience where your needs and well being are always catered for.  A journey that soon becomes a highlight of your big day whilst in our care.
We are a local wedding car hire company that knows the area better than the rest. This allows us to perfectly plan your route and plan for any unexpected issues that may arise en route to the wedding venue. Your professional chauffeur will be fully prepared for the journey ahead. Giving you the peace of mind that you will arrive at your wedding without a hitch.
Choosing the Right transport in Suffolk
Choosing the right wedding car company.  No other uk wedding car company offers more luxury and more included as standard. Where taking care of your wedding day well being is our main concern. This allows you to arrive at the ceremony relaxed and calm, thus making your wedding a lot less stressful.
So if are you planning a wedding and want to rent the perfect wedding transport hire service for the big day? We would love to be part of your wedding and understand that choosing the right wedding car is a dauting prospect. With so many things to consider, it's easy to feel overwhelmed by all the options available!
The first piece of advice to help choose the perfect wedding transport is to think about passengers. It's an obvious one but something that many couples overlook! Consider how many people are travelling in the wedding cars, as this will help narrow down your selection to wedding vehicles that can accommodate your needs. Five things to consider for your wedding car hire in Suffolk
For example, a stretch limousine such as our beautiful Mercedes S-Class S500 Pullman offers a spacious interior that sits up to six people – perfect for the grooms or bridesmaid party!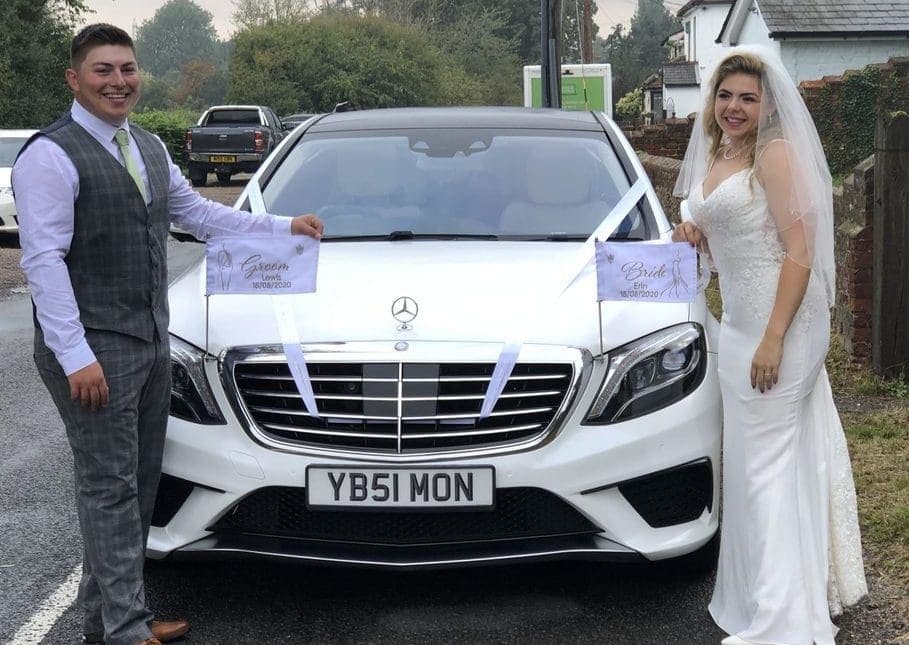 Wedding dress fitting
Another consideration to make is the size of the wedding dress. A large wedding dress takes up a fair amount of space in a car. So think about the size of the dress and what size of wedding vehicle you may need to choose to comfortably fit the bride and her dress. Imagine the last thing you would want is for you and your dress to be crammed into a car!
For this reason all our luxury white Mercedes S class wedding cars are the Long Wheel Based version. Supplying that all important extra leg room in the rear of the vehicle. So you can sit in comfort, rather than being crammed in for the journey on one of the most important events of your life. This is just part of the attention to detail we provide to make your wedding transport perfect and stress free.
Of course, it's important to think about the budget you have for your professional wedding transport in Suffolk. We have a range of competitive prices to suit all budgets. Our rates based on mileage travelled, making it easy to plan a route that fits within your price range.
Finally, think about what car best matches your wedding theme and colour scheme. We offer white wedding cars for hire because we feel it's a timeless yet versatile style that suits with most wedding themes. While we also decorate each wedding car with flags, ribbons, and flowers that follow your desired theme.
We even offer a selection of chauffeur outfits to match the theme of your wedding!
Suffolk is also being the home of the famous singer/songwriter Ed Sheeran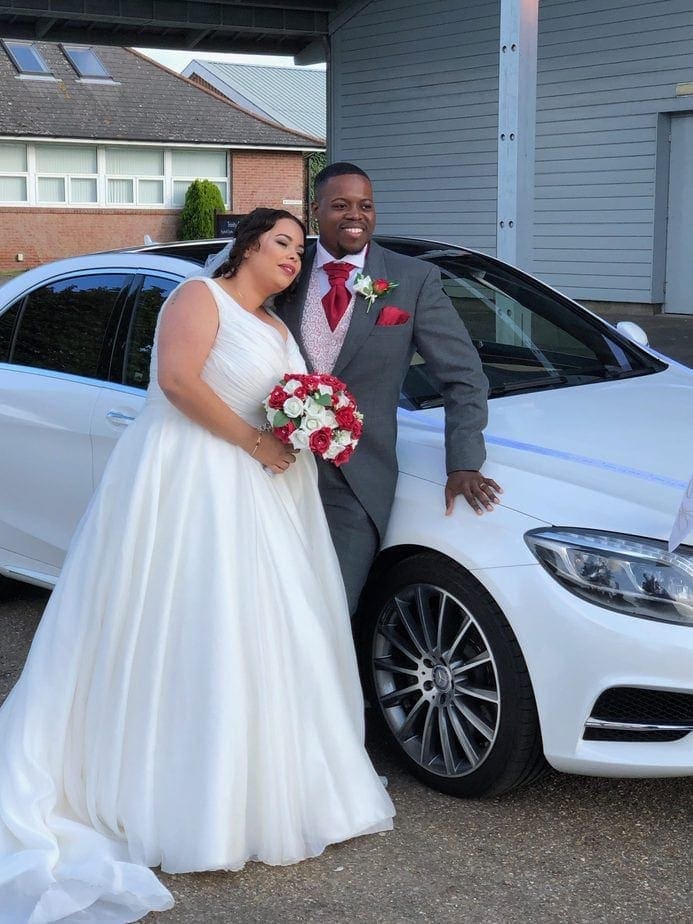 Choosing the Right Venue
There are many spectacular wedding venues throughout Suffolk and we have been lucky enough to travel to most of them. Many Weddings in Suffolk are surrounded by beautiful countryside which add to their style and sophistication. So it makes sense that there are many amazing venues that are superb for every type of wedding.
While you will obviously have a good idea of where you want your wedding location, we do have some personal recommendations based on our experiences with our wedding car hire.
We have seen some truly breath-taking wedding venues in Suffolk but here are a few of our favourites: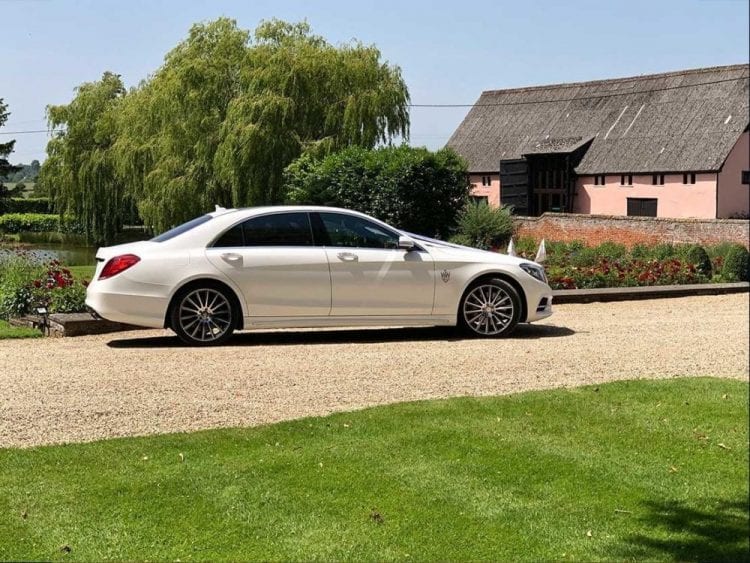 Smeetham Hall Barn Suffolk
Found in the charming Essex countryside on the Essex Suffolk border. Smeetham Hall Barn is an award winning wedding venue near Sudbury Suffolk is a converted 16th century barn that is an outstanding venue for a classic or rustic wedding. The Suffolk towns of Bury St. Edmunds, Ipswich, Haverhill and Stowmarket being within a 40 minute journey.
Located an hour from London and Basildon. A short journey from most of Essex and its surrounding areas. The Essex towns of Halstead, Colchester, Braintree and Chelmsford again being within a 40 minute drive.
This area oozes rural elegance and offers some fantastic areas for wedding photographs. Including the beautiful lake a stone's throw away from the venue.
Woolverstone Hall Ipswich Suffolk
The fantastic Woolverstone Hall is a large country house, now in use as a school, located 5 miles south of the centre of Ipswich, Suffolk, England. It is set in 80 acres on the banks of the River Orwell. Once you turn off the main road, you are faced with the beautiful landscape of this venue.
Driving up the long drive the magnificent Grade I listed mansion imposes on you more. The in/out drive is just perfect for your entrance in your wedding car. Moreover the interior is also just as magnificent.
However the jewel in the crown is the field manicured gardens, over looking the river Orwell. The views are just breath taking at this venue and the perfect back drop for your wedding day.
Woodhall Manor Woodbridge Suffolk
Exclusive-use for your wedding party. This 16th century Suffolk Manor House is nothing short of extraordinary. Whether you want an intimate, elegant wedding for 50 or a lavish extravaganza for 200. Woodhall Manor could be the perfect setting for your special day to impress your guests. With rooms available and loads of outside spaces this could be your dream venue. This is within easy reach of Essex and the town of Lowestoft is only an hour away.  This truly is an all inclusive stunning wedding venue in Woodbridge.
Wedding car Suffolk