Wedding Car Hire: The most popular Questions. We get Asked Before You Book


So, which questions should you ask about hiring a wedding car before you commit to the booking the service?
When arranging transport, there's lots to consider. So, a wedding car hire company that suits your requirements is essential.

The process of hiring your wedding car can be confusing with so many options. However, don't panic, we are here to help guide you though the maze. We will answer for you the most common questions couples ask this. Ensuring you find the perfect transport for your journey.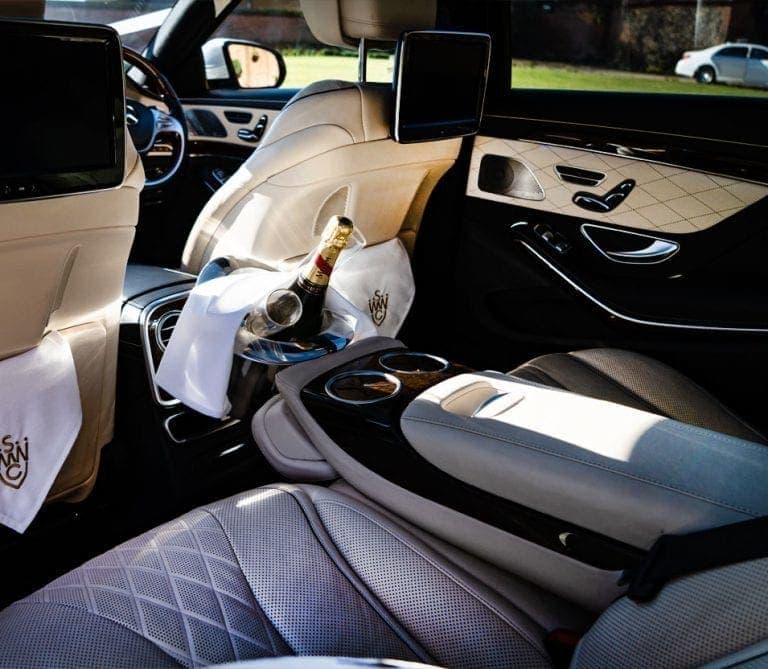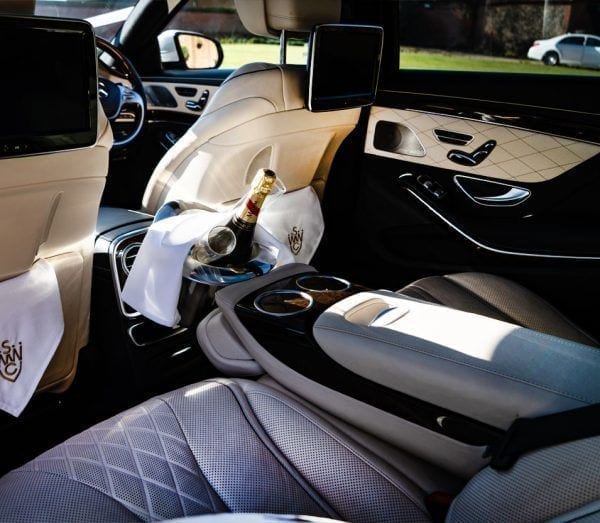 What should my wedding car have?
This is often the most over looked wedding car questions. Maybe because we are all lost in a theme or a dream that we have regarding the day.
However, this is a big one, which causes many regrets afterwards. But in all honestly will depend more on the season you are married in. E.g. Summer wedding, Spring wedding, Winter and Autumn. Also the amount of time you and your parties spend in the vehicles.
One thing no one can argue for sure. The only way you will have a cool wedding car in summer or a hot day is climate control. This is the bear minimum requirement if you or your party plan to be in the vehicle for 15 mins plus. Other items will help like cooling seats and cooling towels.
Opening the window, well at your risk, hours of hair dressing about to be blown away. So on one of the most nervous days of your life. Be cool, nobody wants to be hot and bothered.
So a classic or vintage car although maybe fantastic for photos and your fairytale summer wedding. Can turn into a nightmare experience for your wedding day well being, if they have no air con.
Winter weddings are more forgiving, all vehicles have heaters. Although again climate control is more ideal.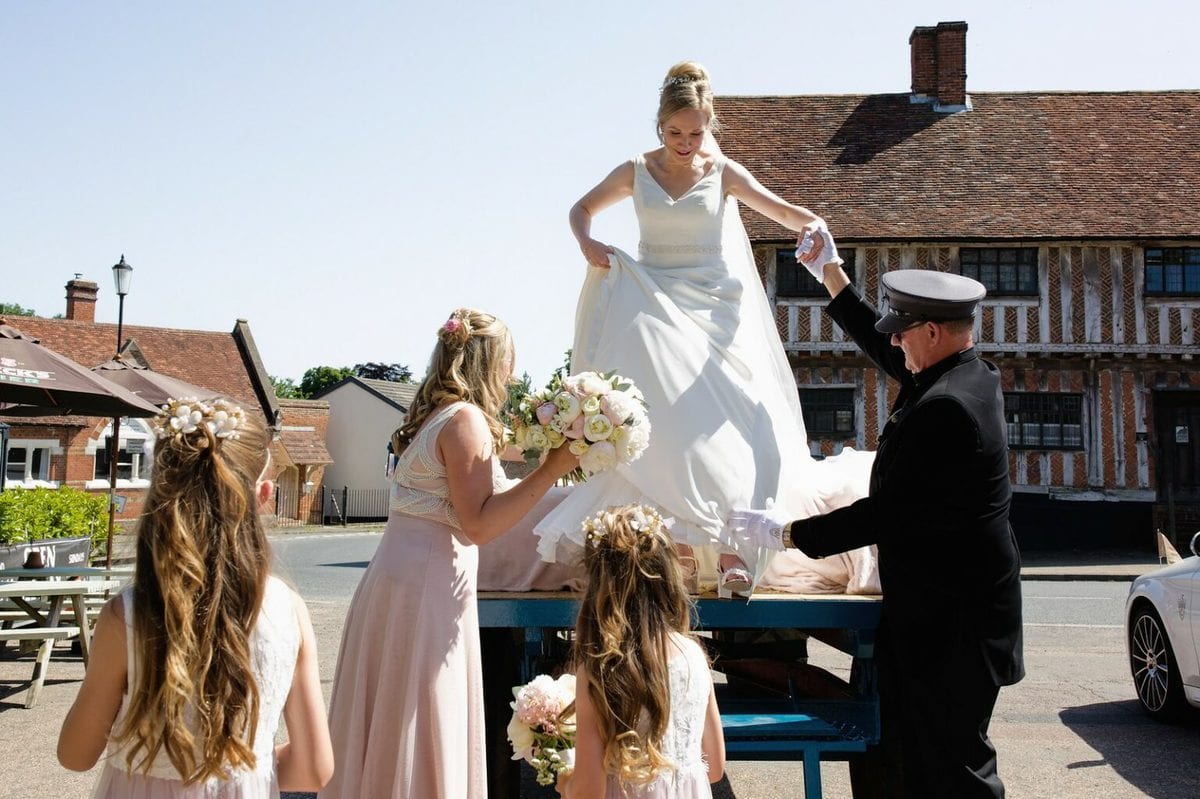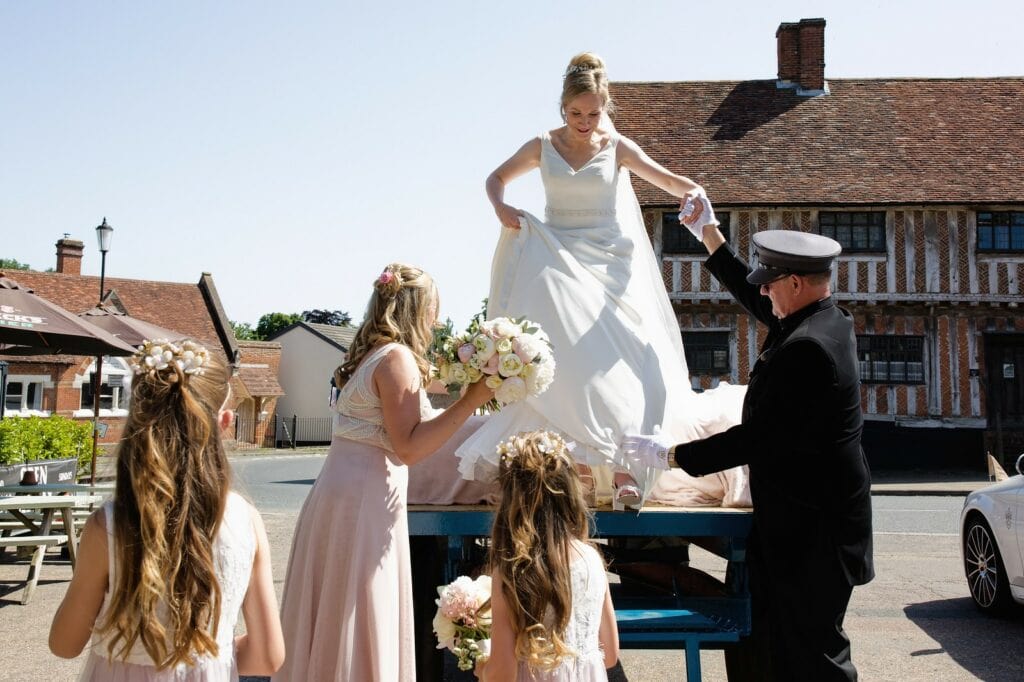 How many cars should we hire for our wedding day?

The number of cars you'll need obviously depends on how big your wedding party is. Also how close hotels or pick up addresses are to the church or venue. Quite often our vehicles can do multiple trips. So we can pick up the Groom and then return for the bridal party. However this is normally only possible if everything is close together.
So of course, the minimum you'll need is one. This would normally transport the bride and father of the bride to the ceremony. Then after the ceremony the newly weds to the venue. However if you plan it right where the place of ceremony and venue are close together will minimise the number of vehicles needed.
Quite often we can do multiple trips whilst the photos are being done. If your church and venue are quite a distance apart then you may need multiple cars. Vehicles like our Mercedes Pullman and E280 6 door limousine are very popular for transporting bridesmaids and grooms parties.

So after the ceremony, one car is used to transport the bride and groom to the reception venue. Normally for us this includes an extended private time. Enjoying and taking in the events of the day so far, whilst toasting your new status with the champagne.
Hence you may need to think about how the bridal party, parents and groomsmen will get to the reception.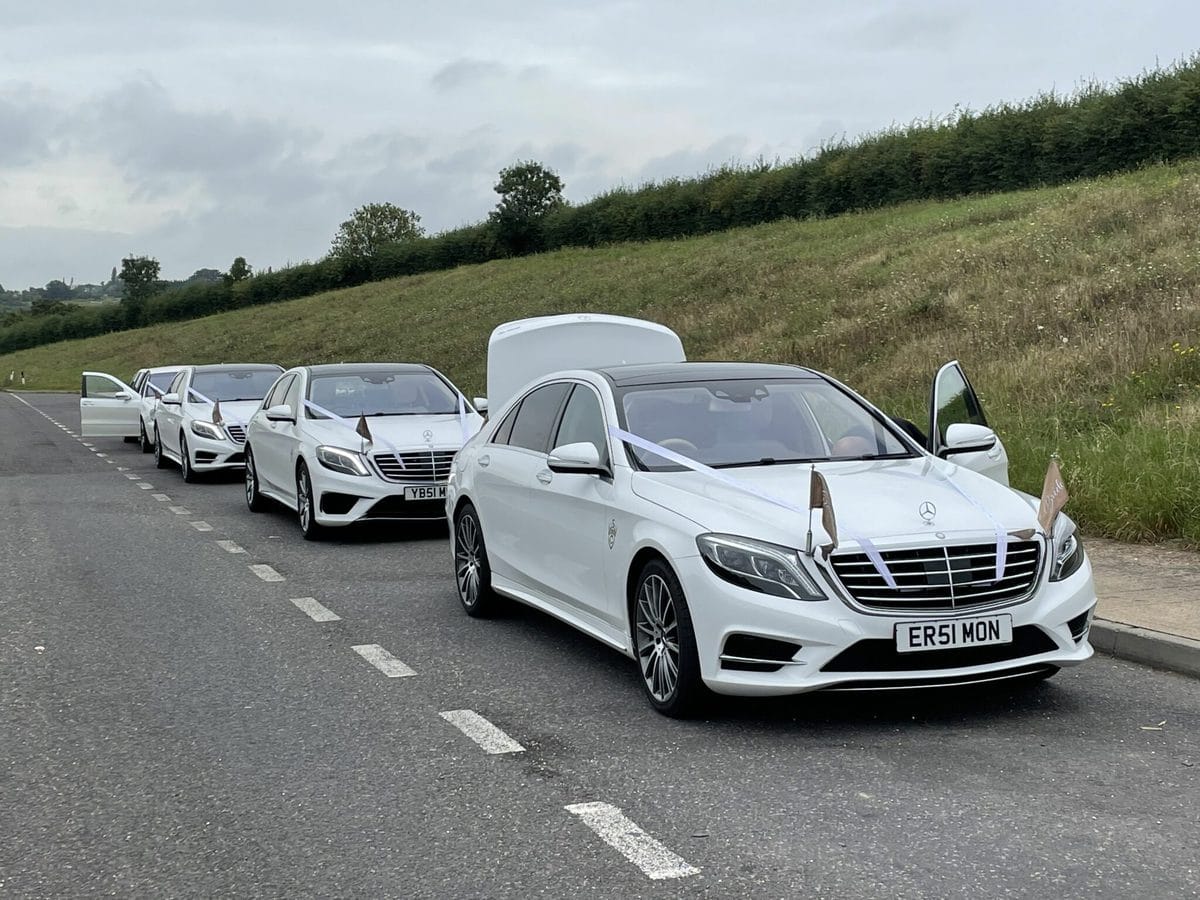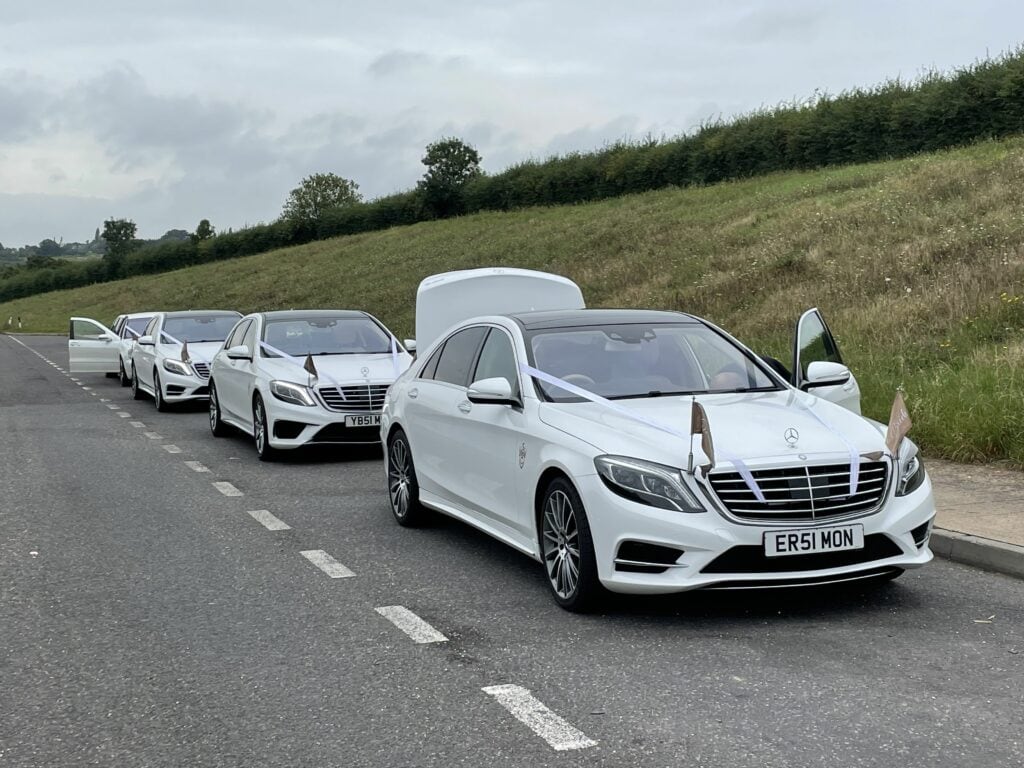 The order of and who travels with who?
This is one of the most popular wedding car questions. The first group to arrive at the ceremony is the grooms party. This normally consists of the groom, best man, and maybe ushers and page boys. So depending on the size of the party, this could be 1 car or 2. Bear in mind that most luxurious wedding vehicles range from 3-6 passengers. Also as mentioned above, these cars could be used for the bridal party also.
Traditionally the bridesmaids, mother of the bride and the flower girls travel together. These should be the next to arrive for the ceremony. Finally the big entrance of the bride and father of the bride, normally travelling in a separate car behind the bridesmaids.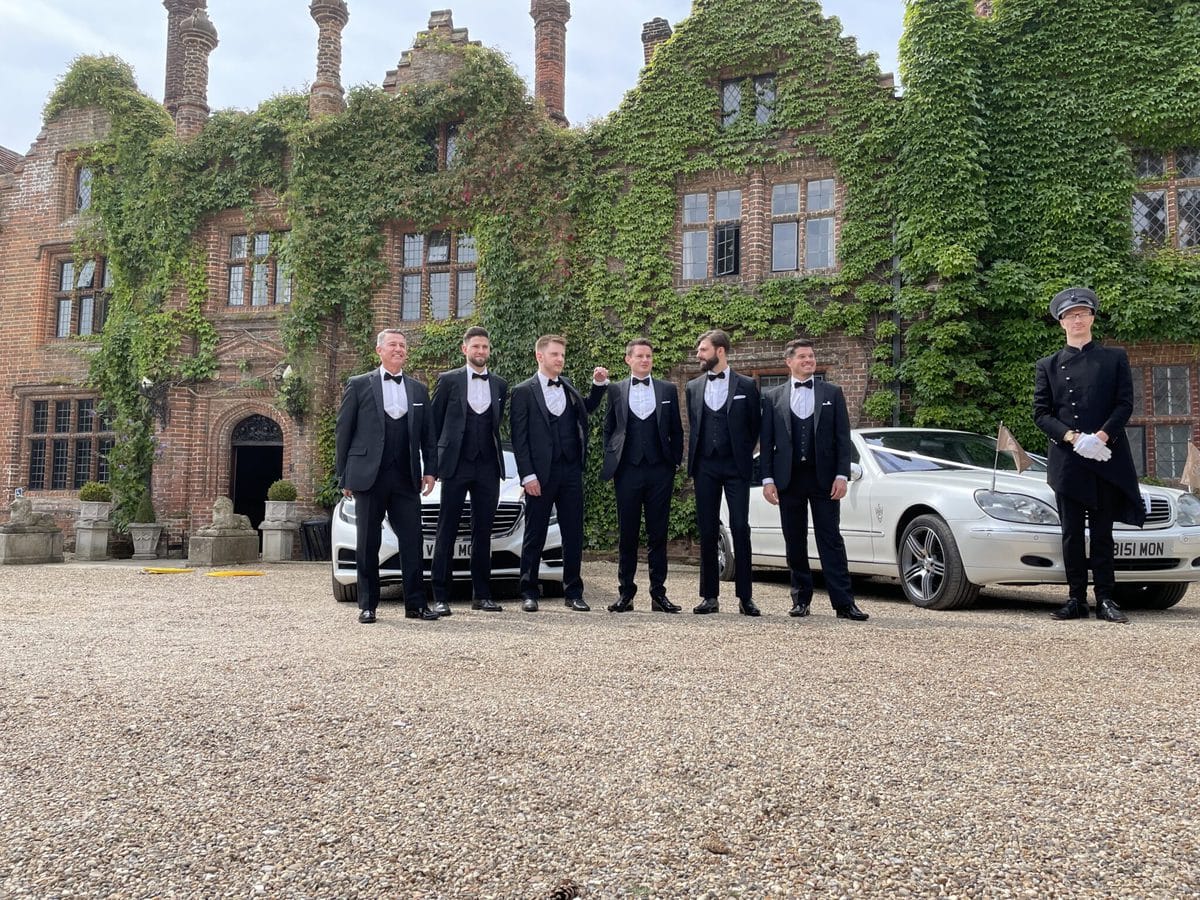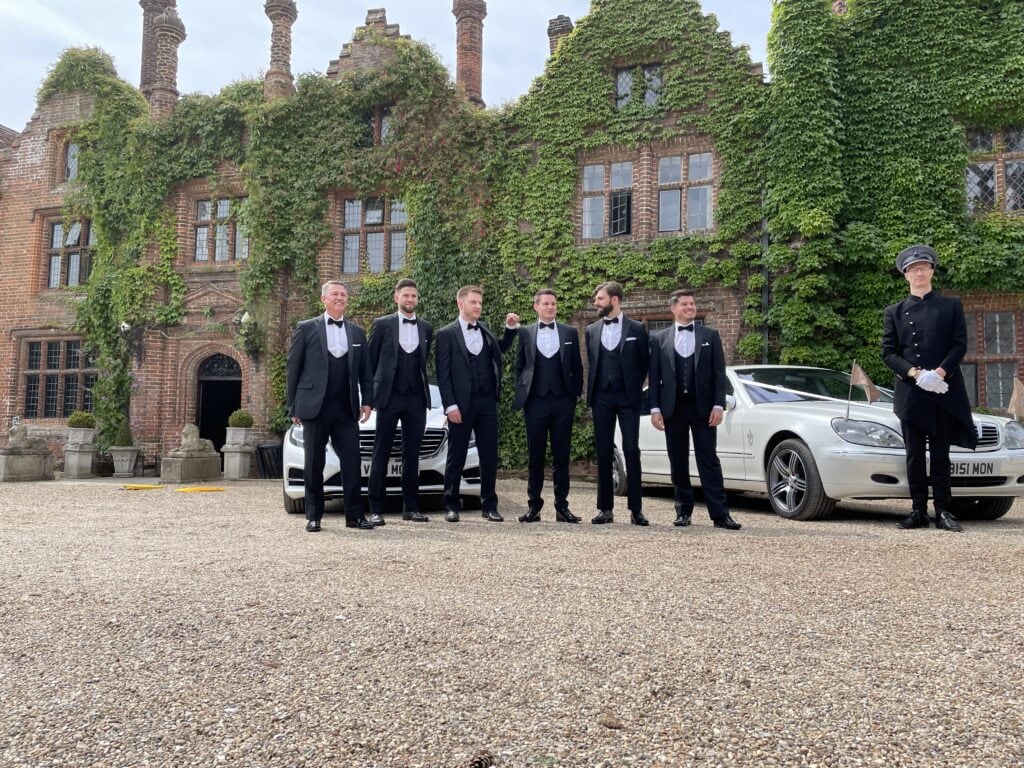 How long is the wedding car hire?

So our standard wedding car hire is for 3 hours. However we can extend to suit your needs. For example most Asian wedding car hires are for at least 6 hours. A good supplier will normally be the same, with a set amount of time included.
Also try and use a wedding car company that only hire out their cars for one wedding a day. We know for example things can go wrong. We have have a bride that was 1 1/2 hours late for example. So by using a company that only does 1 wedding per car per day. You can relax without having to worry about any time restrictions. Hence for piece of mind, this is one of the top questions to ask when making enquiries with wedding car hire companies.
However remember if you run over on time by a lot, although the vehicle will stay. The chauffeurs are paid by the hour, so you may get a bill for the extra hire time.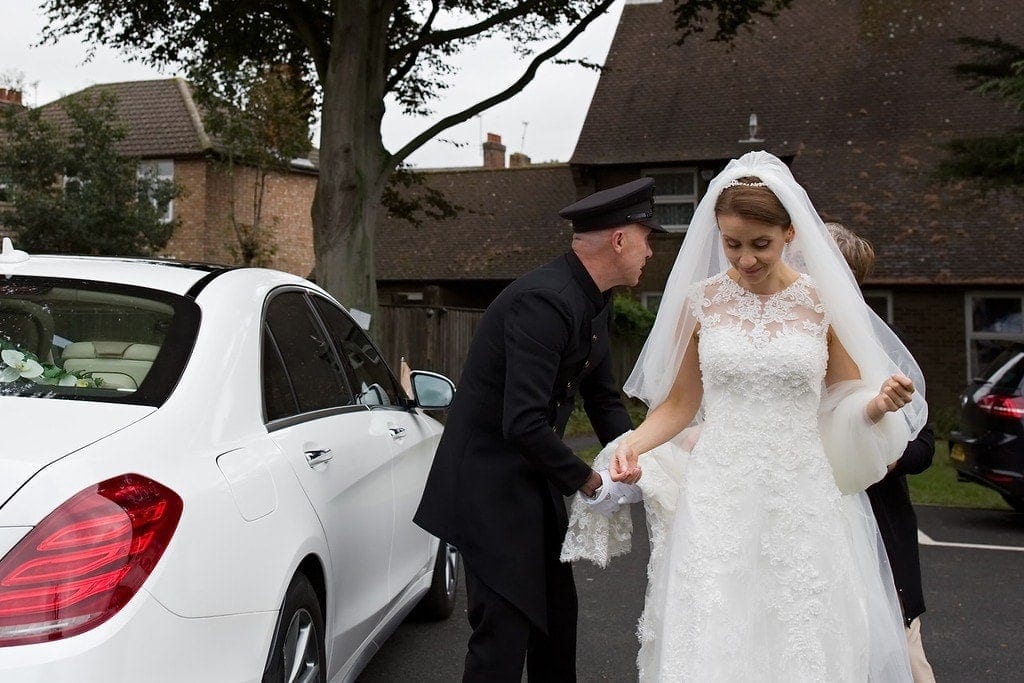 I just need picking up and dropping off
So our luxury wedding car hire is about the day and service you receive. We attend to your well being and that of your party and guests. Make no mistake this is the full VIP first class package. So for this reason we do not do just a pick up and drop off service that is least that our standard 3hr hire charge. Most professional wedding companies are the same.
However they are loads of fine chauffeur services who may be able to do this. We also run and own white glove chauffeur service for example, who may be able to arrange this.


Our ceremony and reception are at the venue, so i don't need a car?


This is probably true in fact. However your be surprised how many bridal parties we take to the venue the night before. Our VIP minibuses are very popular for this and its a fantastic way to start your event.
Also maybe you have forgotten the grooms car arrival, if he has to travel they. So suddenly you maybe could indulge in a car and a private drive after the ceremony. Plus of course maybe some photos with the wedding car.

A car is the perfect backdrop to take some beautiful wedding photography as well.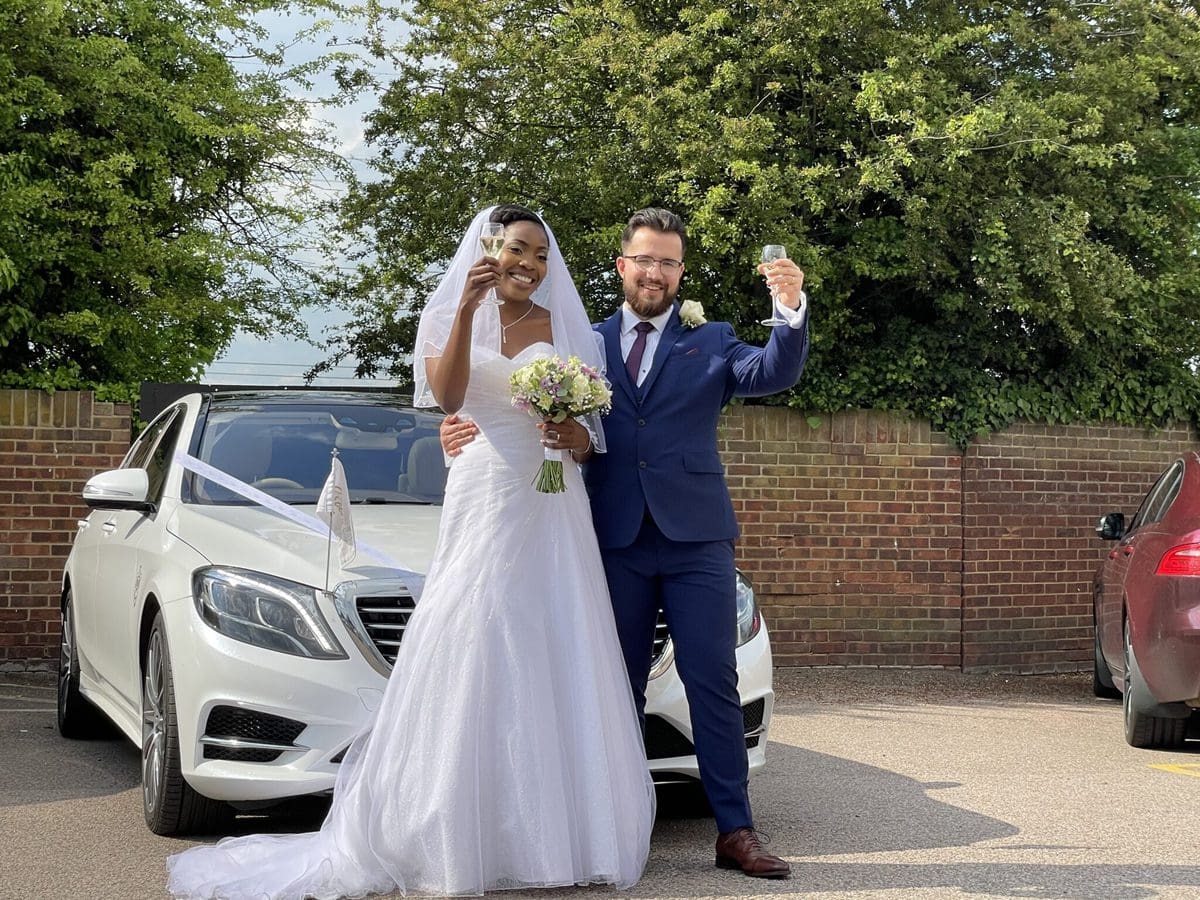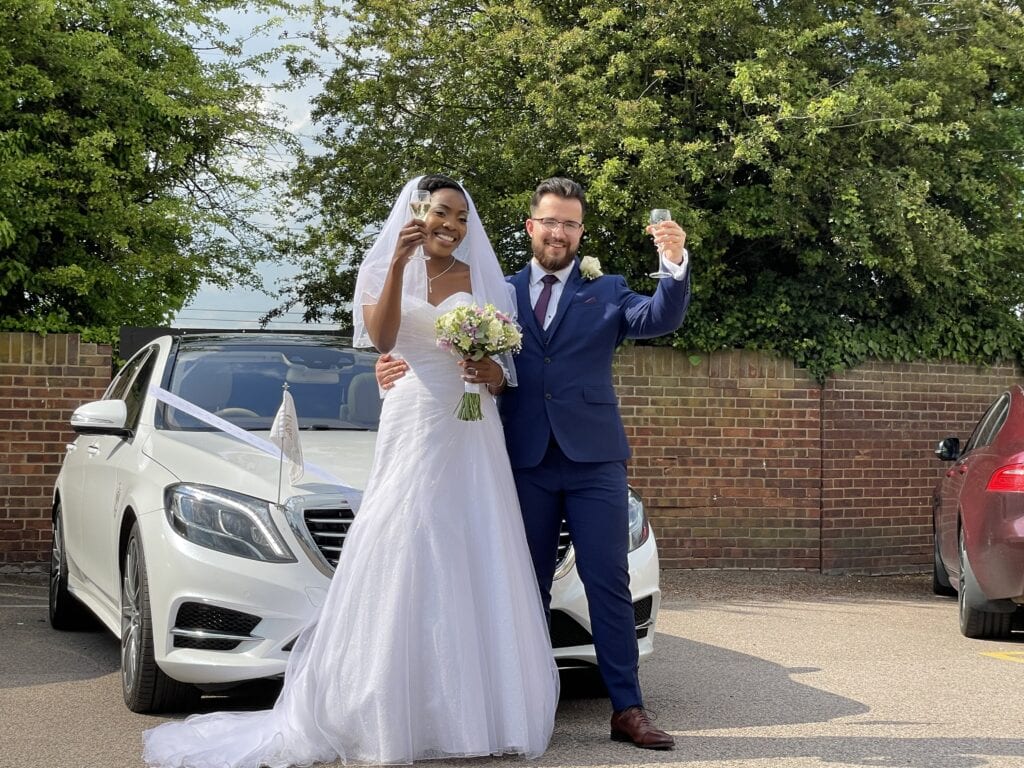 Do all cars come with a driver?

Yes, we chauffeur you and most companies provide a driver. Unless of course you are just hiring a car from a rental company.
So we also offer a choice of uniform to fit in with your theme. Also all of our chauffeur uniforms have been designed by us and tailor made for each chauffeur. Most companies would supply a driver in a suit.


What is the cost of wedding car hire?


In 2021 our average hire was £345. The cost of hire ranged from £185 to £1300. Why should a big difference? So. like most companies our prices our based on the miles we travel. This is based from the depot to the return. So although you may only be travelling 10 miles in a vehicle. Sometimes the vehicle is doing 50 miles plus to be there on your wedding day.
Plus of course we have loads of different models to choose from. For example our Mercedes S63L AMG is £160 more expensive than our Mercedes S350L. Yes they are both Mercedes S classes, but the S63L is a supercar and has a far higher level of comfort.
£1300 wow and how? As above the cost is based on the miles we travel. So we were honoured enough to be chosen to supply our Pullman and 6 door limousine for a wedding in Wales. We drove down on the Friday, provided our luxury service for the wedding at Cardiff Cathedral. Then drove back on the Sunday for example.
So yes the distance we and other wedding car hire companies travel will affect your hire price.




Can you save money on wedding car hire?
Yes you can, we will offer a discount normally if you are hiring 3 cars plus. As explain above, planning your wedding so all the pick up and drop points are close together. This will save you money, by needing less vehicles for your special day.
Booking and payment

To book your wedding with us, you pay a £100 deposit to secure your date on the wedding cars. Your balance is then due 10 weeks before your booked date. Other companies will have their own policy, so make sure you are clear when the final payment is.
Also we do offer an easy payment plan for your ease.


Finishing touches to the wedding car
So we design our luxury wedding car hire around you. Therefore everything is bespoken to your needs, not ours.
We have standard flags and ribbons for all types of weddings. Moreover your can personalise them if you require with your names and date. Even choose a colour to fit your theme.
Change our uniform or upgrade your champagne. Just visit the tailor page for more details.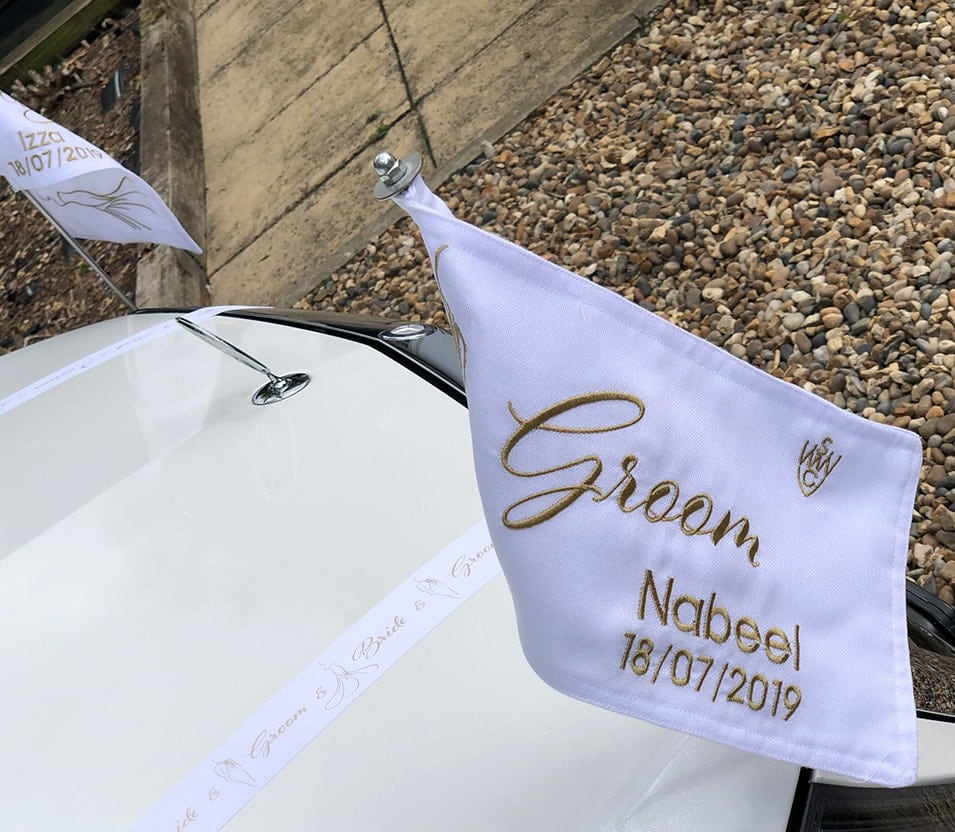 What are the timings for your arrivals?


We plan the routes to make sure you leave in plenty of time. So even if we encounter traffic and any other delays, you'll still arrive on time. However bear in mind sometimes you will have more local knowledge than us.
What time should the Groom arrive?
Ideally 45 minutes before the ceremony. This is so he is there to welcome all the guests and gives his grooms men ample time to guide guests to their seats. Also it allows time for photos with the wedding car and his grooms party.
What time should the Bride arrive?
Ideally about 15 minutes before the ceremony. So again the wedding photographer and videographer will want to take pictures of you in the wedding car. Also exiting it and maybe with your bridesmaids.
Time does fly by for sure on the morning. So have a plan of timings up to your departure in the wedding vehicle. We from experience always allow more time. We know that escorting passengers too and from a vehicle can take longer than expected.
Also if its raining, escorting each member under an umbrella will take longer. However do not worry, our professional chauffeurs are well experienced in weddings.

Thank you for taking the time to read our wedding car questions post. We hope we have helped and can be of service to you on your wedding day. Our luxury fleet of wedding vehicles covers mainly Essex, Hertfordshire, Suffolk, Cambridgeshire and London.
However we do travel nationally as well.