How to book your luxury wedding car
Booking your luxury wedding car hire is easy with Simons white wedding cars. How easy? Just click on cars and enter your desired wedding car hire date. We will then show you the available wedding vehicles we have for your perfect wedding day. Furthermore all our luxury wedding car hire come with free branded Collet champagne for the newly weds. We even provide a much needed private drive for 20 minutes in the hire package. This is your quality alone time, to enjoy each others company before you arrive or return to your guests at your wedding venue.
So far over 300 couples have enjoyed the intimacy of the private drive. Relaxing together for 20 minutes whilst enjoying the fabulous "Collet" champagne. We understand your wedding day, so of course we offer a variety of champagnes. So, when booking your luxurious wedding cars, you can also upgrade the champagne to a brand of your choice.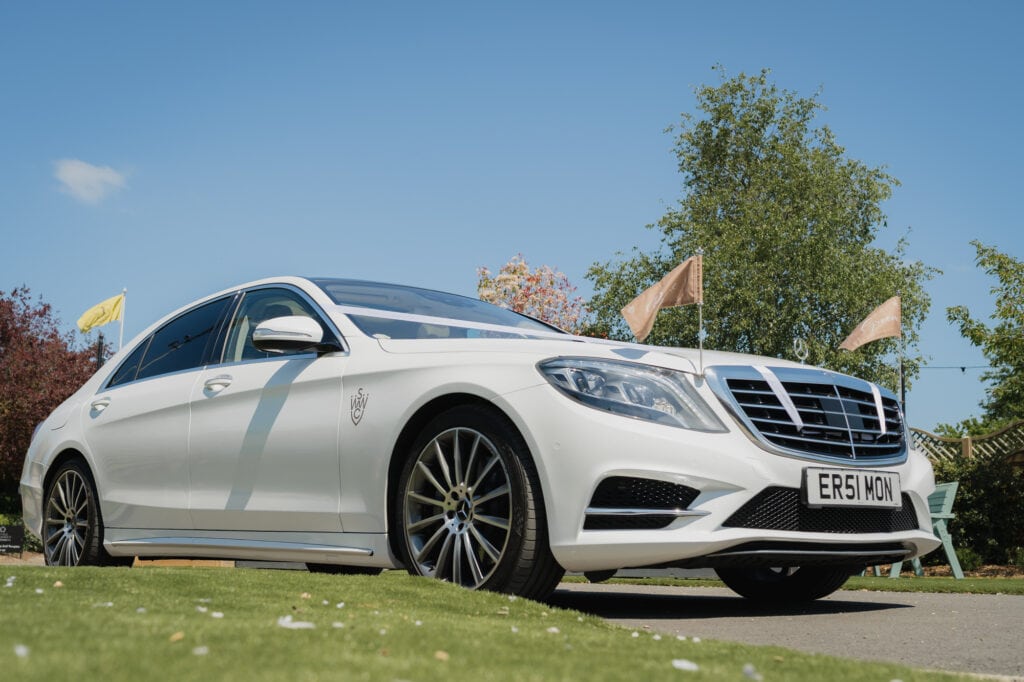 How easy is it to add options
Adding options to your wedding car hire booking is easy. So, with just a tick of a box, you can personalise the wedding cars for your special day. Choose to personalise the wedding car flags with your names and keep them as a momentum of your big day. Maybe choose to personalise the wedding car ribbons or choose a different uniform for your chauffeur.
All is possible with our booking system for your luxury wedding car hire at the click of a button.
Please visit our tailor page to view all the available options for your wedding vehicle hire.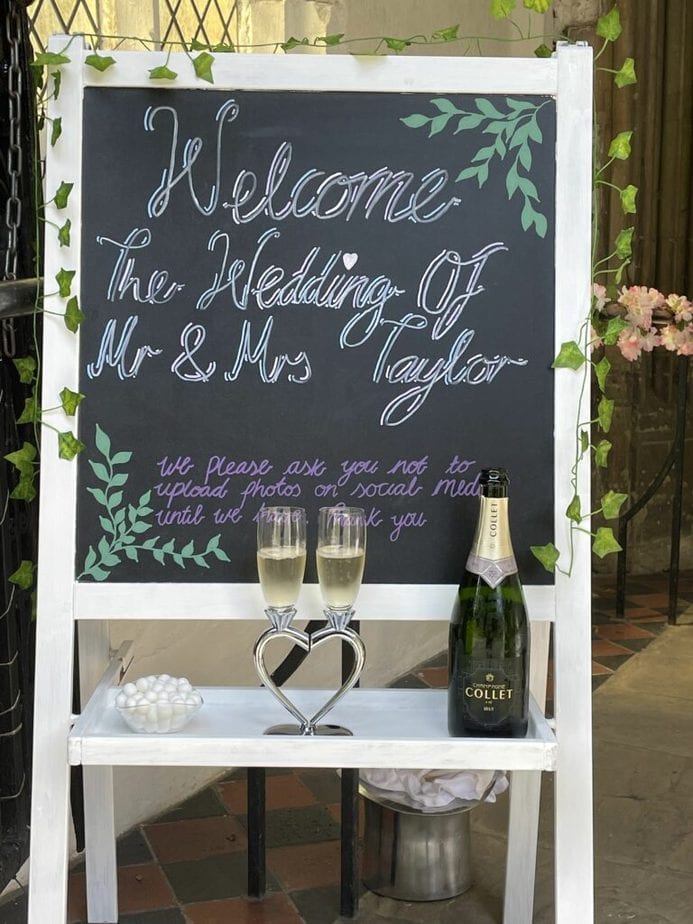 Included as standard in your wedding car hire
We include more as standard in your wedding car hire than any other UK wedding car hire company. Why? Because we believe luxury and service should be at the forefront of your wedding car hire experience. This is why our white glove service delivers the ultimate luxury wedding day. To ensure you and your guests have the best comfort and experience on your wedding day.
So, we thought about all the seasons and how we could look after your well being the best. So, this is why as standard we include. The famous cooling towels, these are actually to claim your nerves and work a treat for sure. The British weather, we carry at least 4 white umbrellas and 4 cosy blankets in each wedding vehicle. We know guests get cold whilst photos are being taken. Also sometimes the church is also cold, so this are always a big hit with wedding guests.
Chilled water is provided in all our wedding vehicles and also at the ceremony, mostly used in summer more than winter. Mints, for one we know you can get a nervous taste in your mouth on one of the biggest days in your life. Also we offer these to all your guests before and after the ceremony.
Also just to mention again branded champagne and the private drive.
Choice of vehicles for your wedding car hire
Wedding car hire choices. So with 8 luxury wedding vehicles to choose from, we have you covered. A modern fleet of luxury vehicles available to hire for your wedding day. Four luxury lwb Mercedes S class limos in white, including the ultimate grooms car the AMG S63L.
Booking your Mercedes S class is easy, we show you an interactive 360 of the interior. As we do with all our wedding cars. Privacy blinds, panoramic sunroofs, Nappa leather seating and luxury climate control are standard on all our S classes. Also most have heated and cooling massaging seats, as well as your own climate control.
Our classy S classes have a bespoke champagne holder in the rear, so for your maximum comfort can only carry two passengers in the rear. The front passenger seat can be used, bringing the maximum passenger limit to three persons. The Mercedes S class was born to be a luxury chauffeur driven car, so its only befitting to grace yourself with its luxury on your special day.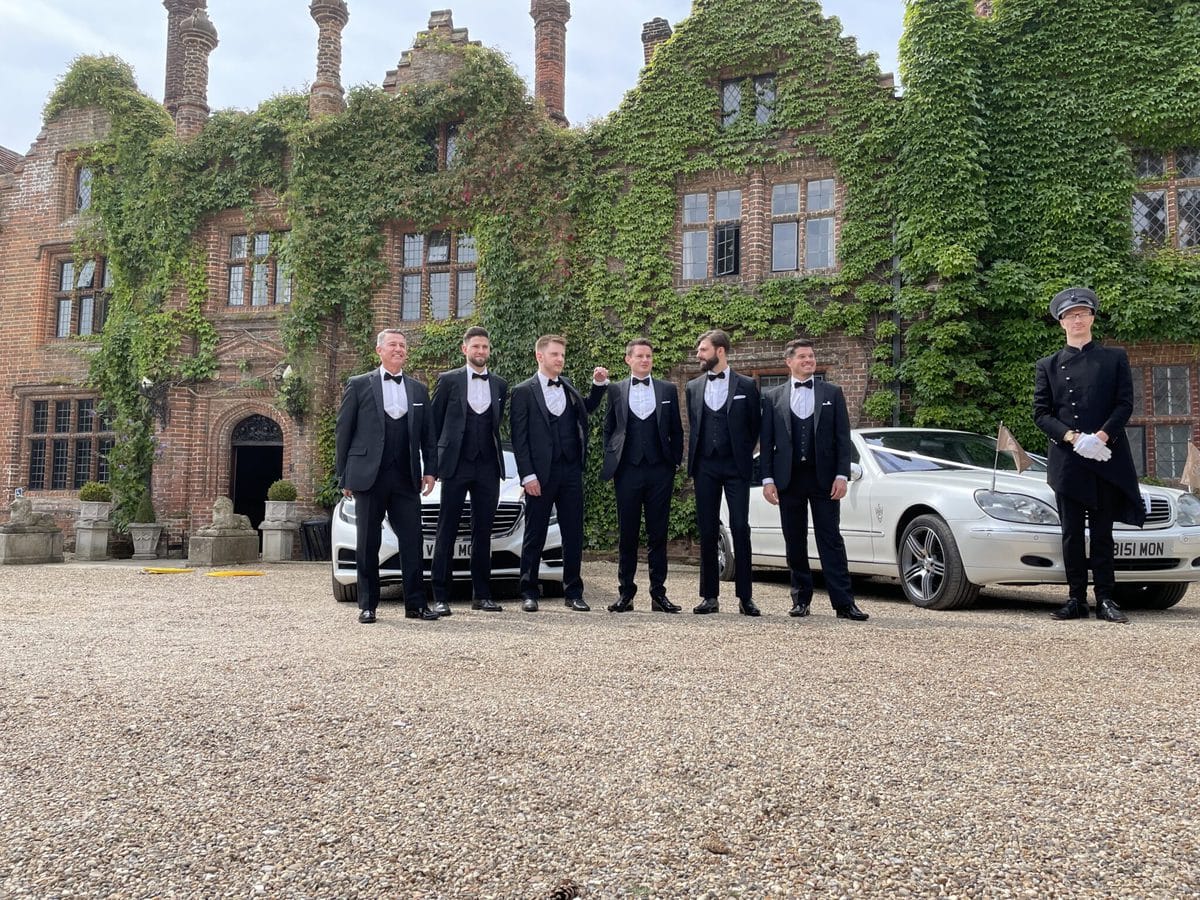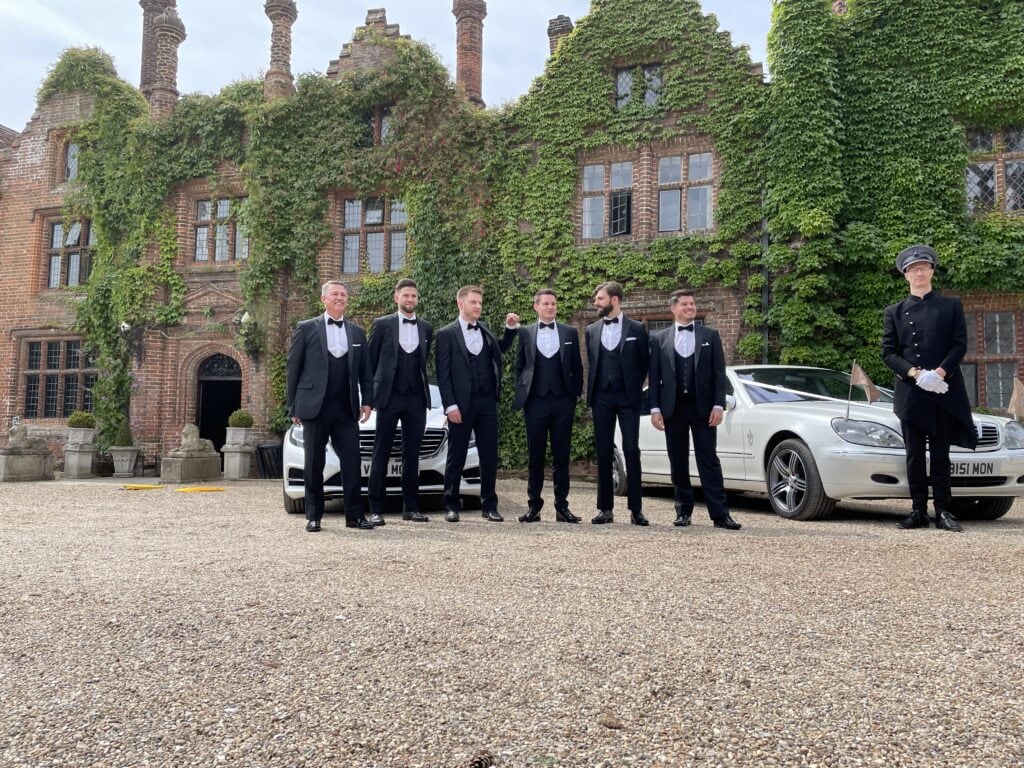 Six door limousines to hire for your wedding
Choose from two six door limousines, carrying a maximum of 7 passengers. Ideal for your bridal party or grooms party. The grand Mercedes S class Pullman always turns heads. This is one of our most popular wedding cars to hire, it has it all. Carrying from 2 -6 people in the perfect grander for your special day. Also with its own rear compartment and climate control system.
The 6 door Mercedes E280 has recently under gone a full restoration of its body work. Thus being taken back to bare metal and then resprayed. The white paintwork is now very reflective again and shines in its full glory. This magnificent six door limousine can carry a maximum of 7 passengers for your wedding car hire. Also it benefits from climate control and leather seating.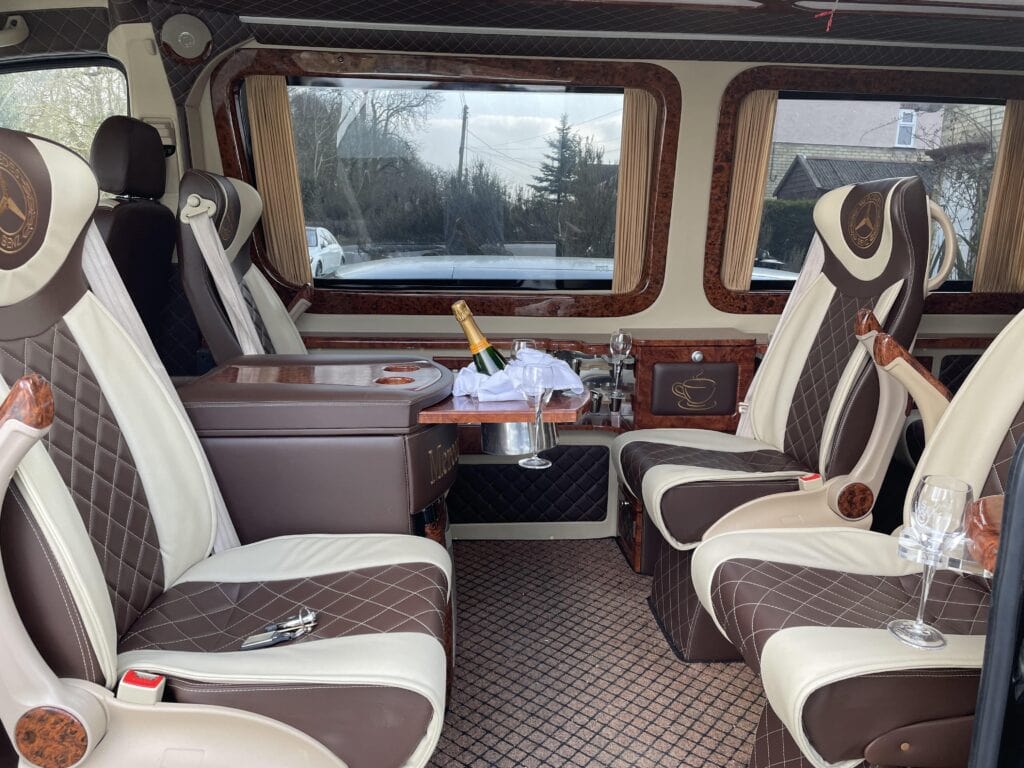 Stunning VIP Minibus wedding hire
So with another 2 luxury VIP minibuses planned for 2021, we will have 4 in total. These are the ultimate wedding vehicle hire for your grooms party or bridal party. In fact they have been used for the whole wedding party also. The VIP minibus range offer first class travel for any of your wedding plans.
So the luxurious Mercedes VIP V class can carry a maximum of 6 passengers if the front seat is used. The first class interior has it all for your comfort. Massaging and heated seats, luxury 2 tone Nappa leather seating and a fridge. Champagne flute holders, mood lighting, plus a starlight roof. Also a panoramic roof, plus media screens and your own music system. All of which you can connect via bluetooth from your phone.
The Mercedes VIP sprinter can carry up to 8 passengers, if the front seat is used. So again a luxurious first class interior for your comfort. Also 7 reclining seats in two tone Nappa leather, a built in fridge, even a coffee machine. This is luxury travel at its best, sit back in the luxury air conditioning and listen to your favourite tunes. This is wedding car hire at its highest level of refinement. So, sip on your champagne, chat with the party and enjoy this 1st class hire.
Coming soon, another VIP 8 seater Sprinter with even more space, plus a 12 or 14 seater. As, above both will be luxurious and provide the ultimate comfort for your party for your wedding transport hire.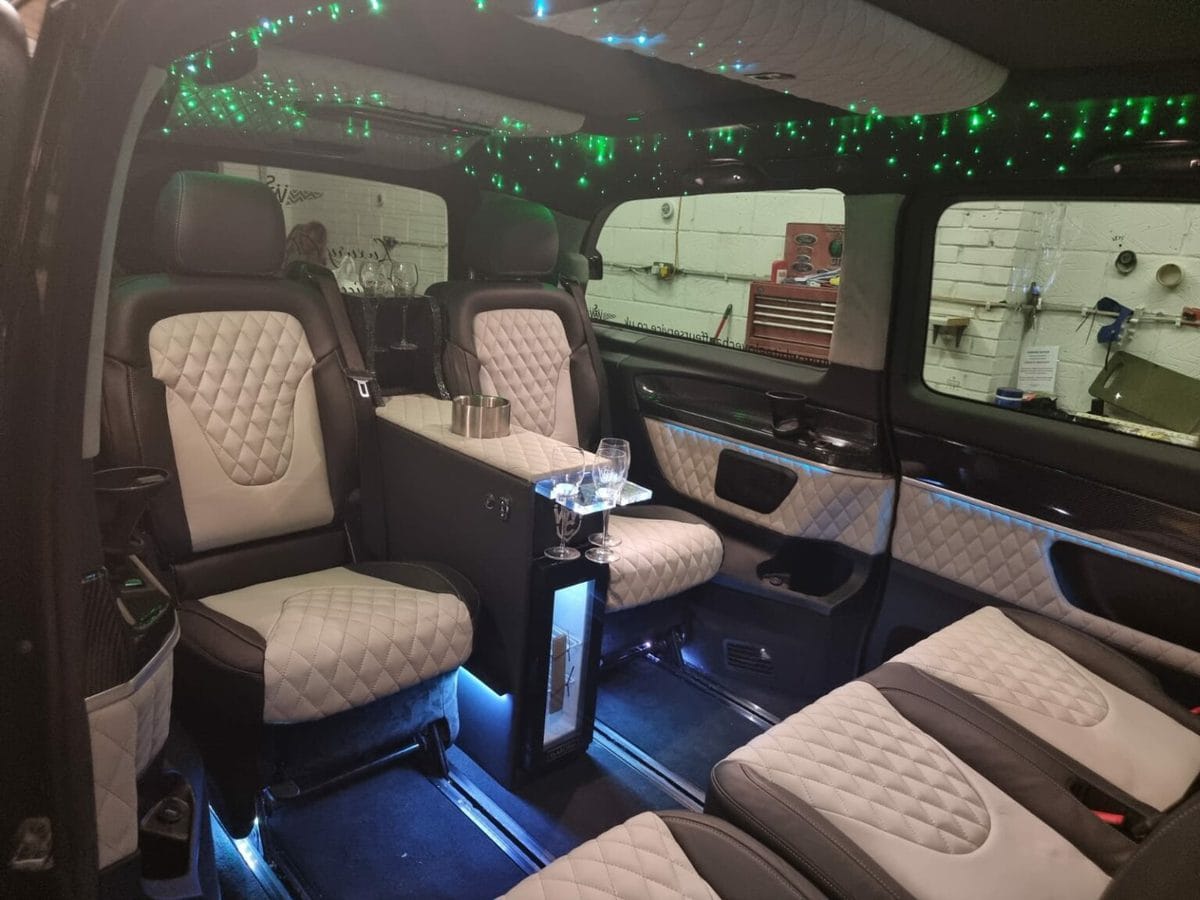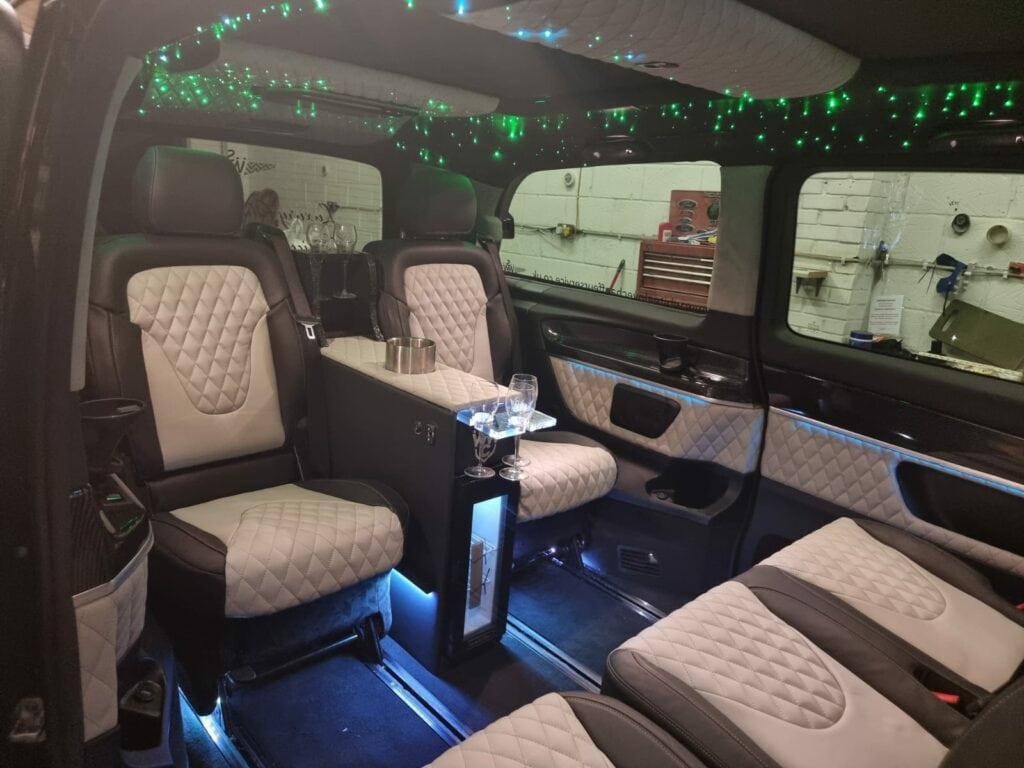 Local wedding cars
We offer our services Nationally, but our rates are based on the miles we travel. Most of our wedding car hires are in Essex, Suffolk and London. We also travel to Cambridgeshire and Hertfordshire quite often. Also we have provided luxurious wedding car hire in Wales and Manchester to name a few areas.
The standard wedding car hire package includes 50 miles of travel. The booking system will aid you in finding out the mileage you need. Just find the closest town to you on the mileage helper. Then enter the mileage needed for your wedding transport hire and your quote will be updated.