Luxury chauffeur driven wedding car hire service
Luxurious chauffeur driven wedding car hire service. We believe our white-glove-chauffeur service is the most important factor in our wedding vehicle hire. Thus, delivering the finest luxury chauffeur driven wedding cars for hire in London and East Anglia for your special day.
The difference. Our wedding chauffeurs care about your wedding day wellbeing. They are not just there to drive you in a luxurious wedding car around Essex for example. We drive to serve you. Offering the finest level of service for your big day.
Often compared to a butler. Our chauffeurs are professional and courteous with their sole focus on you and your wedding guests. Our chauffeurs are there to serve you and your bridal party. Maybe calm your nerves or the father of the brides. Our chauffeurs observe and respond to what they see is needed by you and your wedding party. So often by doing this, they become an unexpected highlight of your perfect wedding day. Thus by delivering the finest driven chauffeured wedding transport service.
The difference
So, surely all wedding cars have a chauffeur. After all they all have a driver, so therefore must be the same. No, in fact the level of service varies enormously. Yes of course every wedding car hire has a driver, who is in a suit and maybe wears a hat. Our service is about attention to detail and luxury. All our wedding cars are equipped with napkins, tissues, flags and ribbons of the highest quality.
Our wedding chauffeur uniforms have been designed by us and bespokely made for us. A choice of six uniforms to choose from to match your classic, vintage or modern wedding theme. Even the chauffeurs shoes are the same for example. All of which you can tailor to your wedding day requirements. That's just the start of our attention to detail for one of the most important day's of your life. Ensuring you receive the perfect wedding car hire with the finest chauffeur service.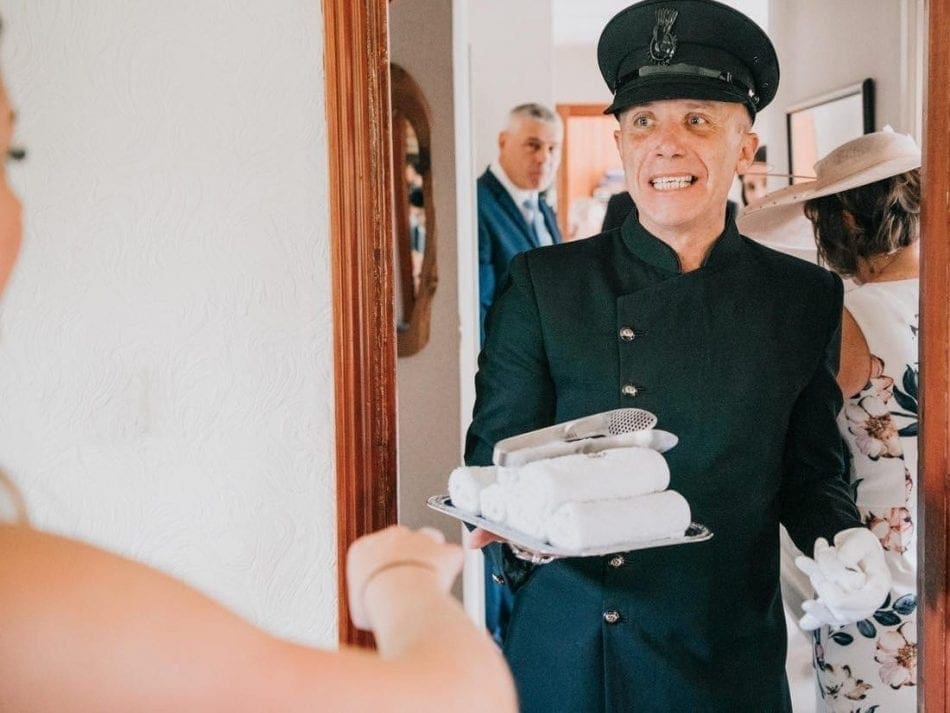 Example
Our luxury Mercedes chauffeured driven wedding cars is for example like going out for the finest al le carte meal at the finest restaurant. It's about the service you receive, say for example your wine glass is never empty or you are made to feel like the only one in the restaurant. This is because of the level of service, detail and care to attention you receive.
 The finest waiters observe all the time, making sure they have your requirements covered and you wait or need for nothing.  These staff are trained to pay attention and deliver a luxury service to accompany your finest meal.  Thus making the whole experience a luxurious treat. So now imagine the same meal, but without the level of service.  It would be a totally different experience.  The meal would be the same, but appear different, in the fact the service was missing.  You would have to wait and ask for everything.  In fact you would probably complain and never return to the restaurant.  So, a high level of service really does matter and will enhance your overall experience.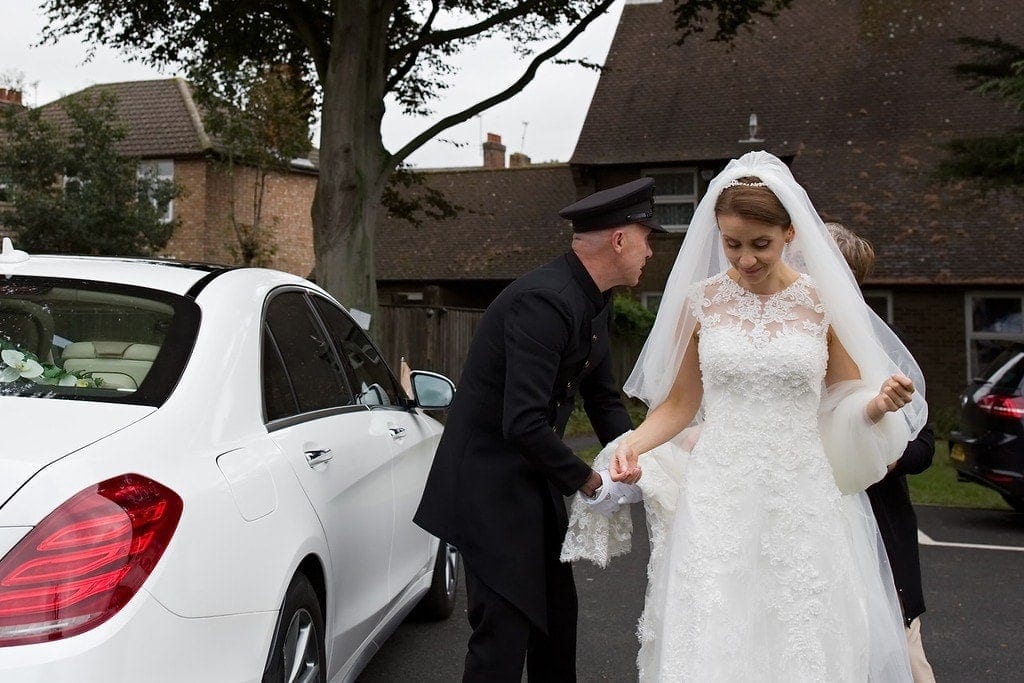 I just need a wedding car
"I only need a nice car with a driver."  Why do i need chauffeur driven wedding cars?  In all honesty, we hear this at wedding fayres and on social media.
Put simply, its like going to the local drive through compared to an al le carte meal. The level of service and care is just non comparable.
It's more expensive. I know couple's that have paid £160-£200 for a wedding car hire, just to pick them up and drop them off at the church or wedding venue.
Now compare that to our luxury Mercedes s Class chauffeured wedding cars hire service. Starting at £270 for a 3 hour hire. Complimentary branded champagne as standard, chilled water and complimentary mints. White umbrellas supplied as standard to protect you from the rain or shield you from the sun. A twenty minute private drive for the happy couple to enjoy the champagne and have some quality alone time.
Also of course, the wedding car can do multiple trips. Additionally the car stays for your photos and takes you to the wedding venue after your ceremony. That seems a lot for only £70-£110 more.
But most of all: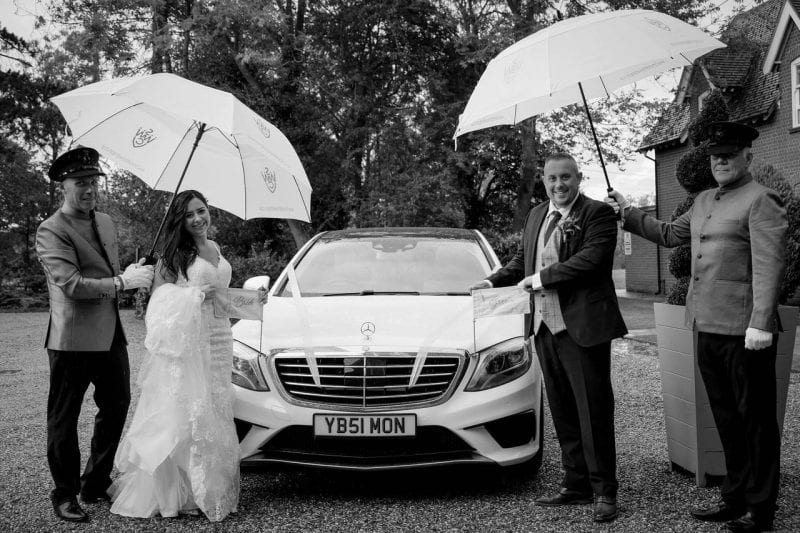 Chauffeur driven white glove wedding car service
You hire a white glove chauffeur wedding car hire service. A professional wedding chauffeur, well mannered and courteous. A chauffeur who's main objective is your wellbeing and taking care of it. Dedicated to delivering a first class service, where you truly like a VIP.
Nothing is too much trouble, they will carry your wedding dress train to prevent it from getting dirty. Welcome you both as the newly weds with a glass of champagne. Supply you with water and cooling towels if needed. We even carry a sewing kit in each wedding car, should any mishaps happen.
However it does not stop there. The same level of service is extended to your bridal party and wedding guests. So again offering mints, cooling towels and water if need. Also supplying umbrellas for shelter and blankets for warmth should they be required.
However don't take our word for it. Please read some of our reviews below.
Winter weddings
The best company EVER!!!
So professional reliable, done everything for us plus more.
Flannels for bride and bridesmaids on arrival, mints,umbrellas, blankets.
and for the car WOW ? AMG ❤️
It was beautiful with champagne and water served.
A big thank you again not for just giving a outstanding service but for making us feel so special on our big day and most of all keeping the bride calm.
All the best
Mr and Mrs studd wedding in Bury St. Edmunds Suffolk
These guys turned out to be such a huge part of our Wedding Day! They could not do enough to make us feel comfortable and that service extended to our guests as well. The drivers were so professional and helpful and you really can see that this is a hobby for them and not just a job and the cars really do speak for themselves, they are beautiful! Thank you so much
Lauren Baker wedding in Haverhill Suffolk
Summer weddings
We chose SWWC for our daughters wedding and are so pleased we did, the service was outstanding, the cars were stunning and the chauffeurs were very smart, polite and courteous. we had rain and they escorted each member of the wedding party with umbrellas and when we left the church and it was still raining they were on hand immediately with umbrellas for everyone! They really couldn't have done more to make the day go smoothly and I would thoroughly recommend them.
Alison Oakley wedding in Wickford Essex
We were lucky enough to have Simon as our driver for our wedding at the weekend. From the moment he arrived at the house he was offering cold towels, bottles of water and mints to all the guests.
When it was time to go to the car he carried the train of my dress so it didn't get dirty.
The car was immaculate and very comfortable with more bottled water and mints available.
On arrival at the venue he escorted me to where we needed to wait and again offered water and cold towels to everyone.
Following our ceremony my new husband and I were given the opportunity for a ride on our own with a bottle of champagne.
The whole experience was made special by the excellent service which was delivered with humour and professionalism.
Sue Latham wedding in Woodbridge Suffolk
They were courteous and fantasic with our bride and groom. It was quite clear customer service and customer satifaction was at the heart of everything they did. They are brilliant!
Patrica Harrison. Gift of a wedding
If you have any queries regarding our service please contact us
Providing the finest chauffeur driven wedding car hire service available in London and Essex. Also for hire in Suffolk, Hertfordshire and Cambridgeshire. After all this is why swwc was created.
Arrive in style with a luxury Mercedes Benz. Our car range features some of the best Mercedes S class limos for wedding car hire London. Wedding cars also available across Essex and Suffolk. Also we cover Cambridgeshire and Hertfordshire.
Chauffeured wedding car hire