Wedding Day Wellbeing Wins
Your wedding day well-being  is one of our main priorities on your big day. We understand your special day, hence we want you to arrive in your chauffeur driven car at the ceremony as relaxed as possible.  On arrival we are at your side, checking your well-being and that of your bridal party.
We know most of you will be nervous, after all it's one of the biggest events in your life. Years and months of planning the perfect wedding and now it's the big day. Possibly you have been up since the early hours of your special day. Hair and make up artists rushing around you and your bridesmaids. Then photographers and videographers all start arriving and need your attention. The day is now real, you are getting married. So, you will have one eye on the time, together with making sure everything is being done to your desire and timetable.
The nerves start to kick in more, so your mouth starts to dry and you start to feel hot. OMG it's just started raining. A knock at the door, reveals your white glove chauffeur has arrived.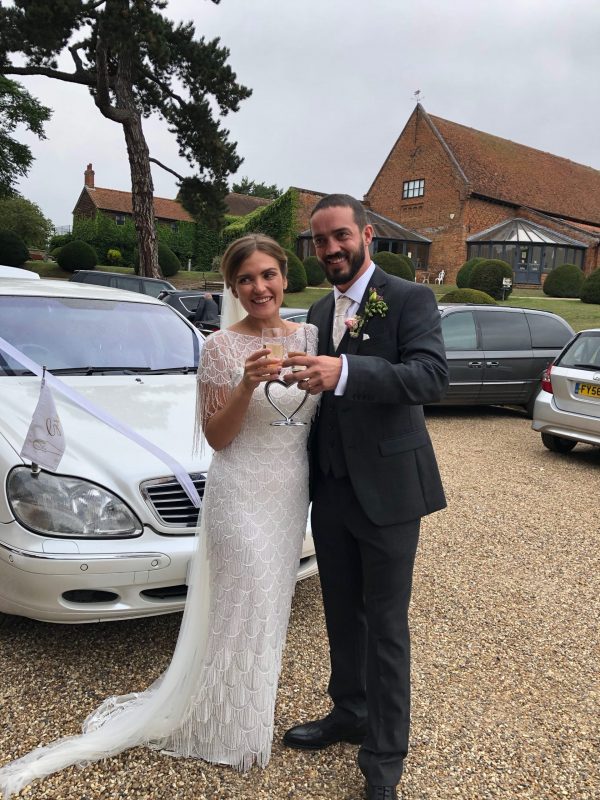 Taking care of your well-being on your wedding day
So, straight away your white glove service has started. A professional wedding chauffeur introduces themselves, a bowl of mints in hand. Offering the whole room a mint and making their way to you. Straight away enquiring about your wedding day wellbeing, offering you a mint to lose that nervous taste in your mouth.
Enquiring if you are hot or stressing though nerves, then supplying a cooling towel and advising you where to place it  to aid calming you down. Now turning to the bridal party and offering the same service. As the cooling towels lower your body temperature, our chauffeur will explain the journey ahead.
They will explain our services, firstly enquiring if we can carry your wedding dress train to prevent it from getting dirty. We will carry your train from your destination address to the wedding car. Then from the wedding car to just inside the ceremony entrance.
If it's still raining, your chauffeur will explain how we use the umbrellas, which we have in each vehicle, e.g. the order in which we will escort your party to the bridal car, under the shelter of a white umbrella. Also the procedure for arriving at the ceremony.
Once you are in the wedding car, again your white gloved chauffeur will enquire of your well-being. Offering you chilled water and mints. Showing you the features of the wedding vehicle, how to adjust the electric seats, how to use the heated or cooled seats. If you are lucky enough to have booked the S63L AMG or S500L with their magic body control., it will be like a chauffeur driven ride on a magic carpet. Ensuring you are as comfortable and relaxed as possible.
So again this is also extended to your bridal party.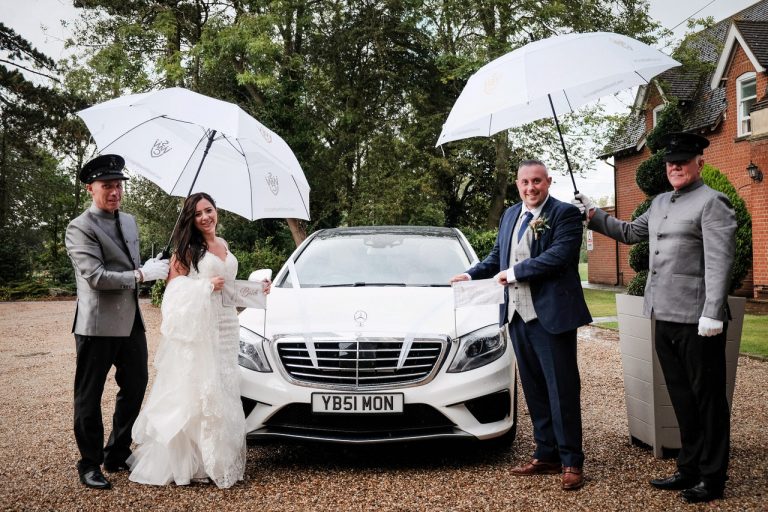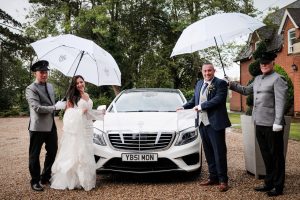 What if?
Rest assured, we are ready for any mishaps. Each wedding car carries a sewing kit and phone chargers. Which have been used on a few occasions.
British weather?  We carry at least 4 white umbrellas and 4 blankets in each car. All our wedding cars have luxury climate control ensuring your ultimate comfort.
Stress free wedding transport
Ensuring the search for your perfect wedding transport is as stress free as possible. After our own personal experience, this is why SWWC was set up. To take the stress out of obtaining a wedding car quote and then booking wedding transport.
So we wanted to make the whole process as easy as possible. Firstly by being transparent and factual. Hence all the images you view on our website are of our actual wedding cars. Moreover, we are a family run business, that understands the attention to detail needed. Enabling us to provide the perfect chauffeur driven wedding car service and the best wedding cars for your special day.
No more waiting around stressing. Instantly see the cost of your chosen wedding car. Also instantly see if your chosen date is available and which vehicles are available. An easy guide to help you determine the required mileage package. Book your chosen wedding transport instantly as easy as 123.
Wedding car hire payment choices, choose how you would like to pay for your booking.
You can bespoke our vehicles to your wedding theme. Moreover you can actually personalise the flags and wedding car ribbons. Tailor our products to best suit your wedding day theme. Choose from 6 bespoke chauffeur uniforms.
The wedding car hire cost will instantly change as you add options.
We also try and cover all your questions with our FAQS
Celebrate your marriage immediately. The moment the happy couple appear after the wedding ceremony, we are there offering branded champagne to toast the special moment.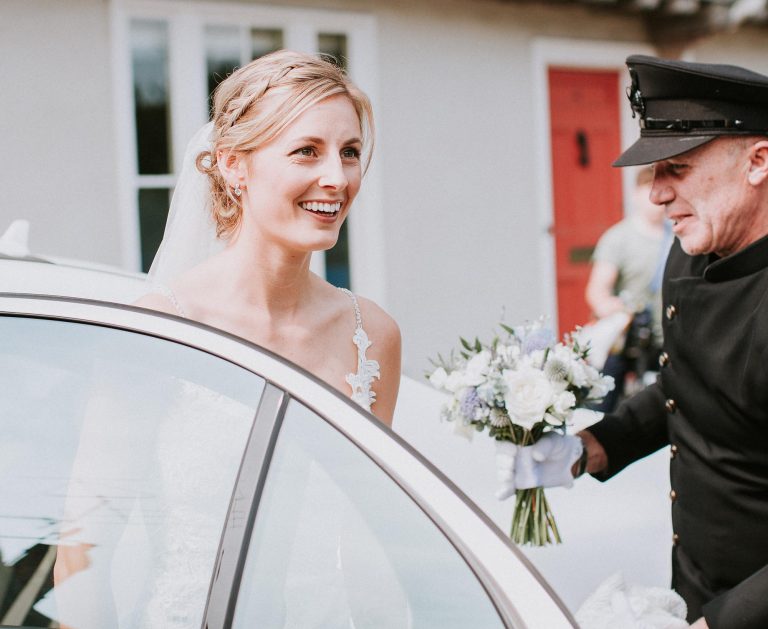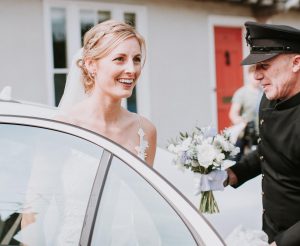 After the wedding ceremony
Straight after handing you both your champagne, we enquire about your wellbeing. Enquiring if you need anything and serving it to you. So now we move on to the bridal and grooms party, again checking the wellbeing of everybody offering mints, cooling towels and chilled water. Again weather dependant, we will also offer blankets and umbrellas if needed.
We continually monitor the needs of you the happy couple and your guests.
Once its time for your chauffeur driven private drive, we will assist you into the wedding car. So again explain the cars features and check your wellbeing, whilst topping up your champagne flutes.
Wedding cars for hire in London, Cambridgeshire, Essex, Hertfordshire and Suffolk.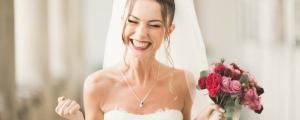 Wedding journey
We aim to make your wedding journey with us as easy as possible. We care about your wellbeing from the start to the end. So we endeavour to make the whole process as stress free as possible. Two of our wedding cars have massaging rear seats for your ultimate wellbeing. Our Mercedes S350L exe and Mercedes S500L offer total relaxation for your wedding journey.
We extend this to all our services as standard.
If you have any special requests or queries about your wedding day wellbeing with us. Please do not hesitate to contact us.
Luxury chauffeur driven wedding car hire caring about your wedding day wellbeing.