The Best Grooms Car
The Grooms car, often the forgotten entrance in traditional weddings. Although in Asian weddings the grooms arrival is a celebration of festivities, drums playing and wedding guests escorting the grooms wedding vehicle to the ceremony entrance. A celebration with guests dancing in front of the grooms transport on his arrival.
So what makes the perfect grooms car or transport. Supercars and sports cars are very popular for that cool wow entrance. The sound and thrill from the roar of the engines is always very popular.
However of course most are 2 seater vehicles, so choices are self drive. This will provide space for 2 of the grooms party or alternatively chauffeur driven providing space for one person of the party.
Mod cons and comfort, maybe you can forgive or expect the bare hard ride, after all this is a supercar and the smile of your face compensates for this.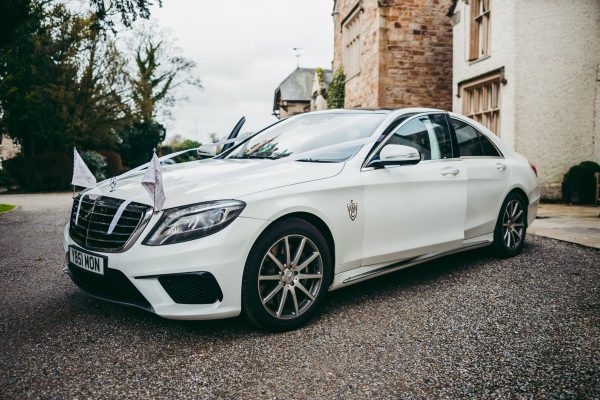 Luxury and comfort for the groom
So to find a vehicle providing luxury and comfort for the groom is not always possible with a supercar. However, enter the Mercedes S Class S63L AMG. Without a doubt just the letters AMG stand for sports and performance around the world.
Moreover the S class is the flagship luxury car of Mercedes. So with the S63L you get it all and more. The sound of a sports supercar, but most importantly the luxury and comfort of one of the worlds leading luxury cars. Thus making it an ideal grooms car for your day and entrance.
Plus chauffeur driven, a personal chauffeur to cater for all your needs and aid you though your big day. Also you can transport 3 of the groom's party to your wedding.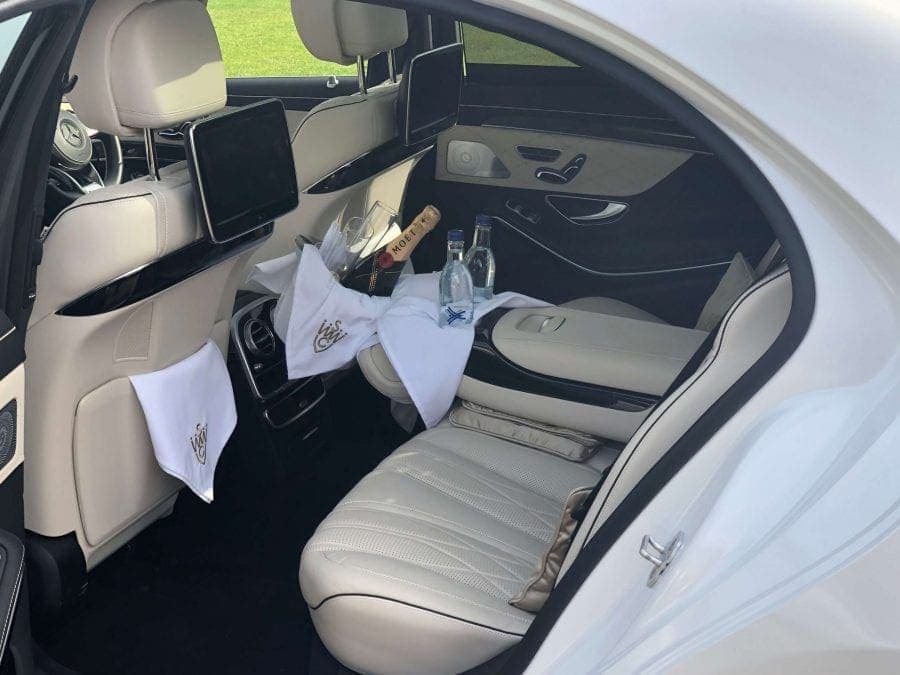 S63L AMG wedding car
Our Mercedes S63L is one of the highest spec AMGs in the UK wedding car industry and probably in the UK. Costing nearly 150K new this is the ultimate cool wedding car for the groom or your loved one on your big day.
White with a silver fleck, that just glisten's in the light. The finest exclusive cream nappa leather seating awaits you. Whatever the weather, the heated and cooling electric seats will provide the finest comfort for your journey.
Magic carpet ride? The active magic body control with the air suspension provides the most luxurious comfort. The magic body control reads the roads surface ahead, adjusting itself so you don't feel any bumps. Cornering, it adjusts the suspension again to keep the vehicle level. It's no wonder it has been compared to the nearest thing to riding on a magic carpet.
So this luxurious cool grooms car will not rattle your bones, but it will deliver the supercar entrance you desire for your wedding car.
To view a full 360 interactive of the interior please visit our wedding car page by clicking the instant quote button to book your wedding car hire.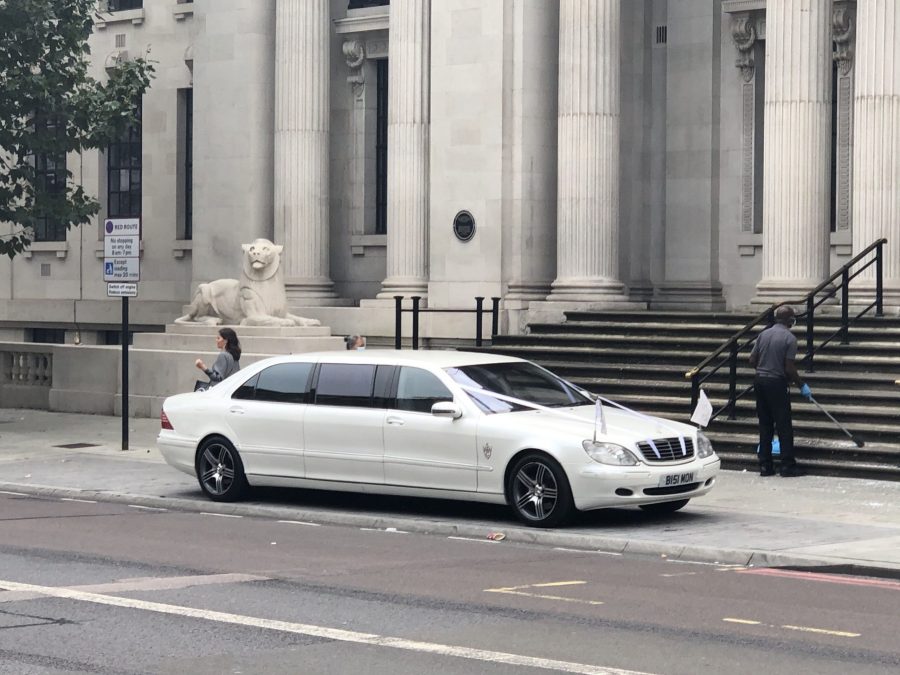 Luxury chauffeur driven
Looking for a luxury chauffeur driven car for the grooms party? Look no further, our white glove service delivers the finest luxurious experience on your wedding day. Ensuring you arrive in the ultimate style, class and comfort.
A service that is in fact, so often a highlight of the newly weds to be big day. We are not just here to drive you about in a luxurious car. Caring for all your needs and that of your wedding party and guests. Your wellbeing is our main priority, ensuring you are always comfortable, protected from the elements and relaxed. So whatever type of conditions occur on your special day, we have you covered.
As standard all our modern wedding vehicles carry white umbrellas, blankets and a sewing kit for any mishaps. Yes we like to be prepared for any eventuality to ensure your day is stress free whilst in our care. We even carry phone chargers just incase. The above have been used on several occasions by a bride or groom.
Cooling towels, chilled water and mints are also standard in our hire for you and your guests. Topped by free branded champagne for the happy couple, served to them by the chauffeur as they exit the ceremony.
This is then placed back in the car, ready for their private drive. A fabulous time where you get 20 minutes alone time to take in the events so far of your wedding. Also a nice relaxation time together before the demands of your reception start.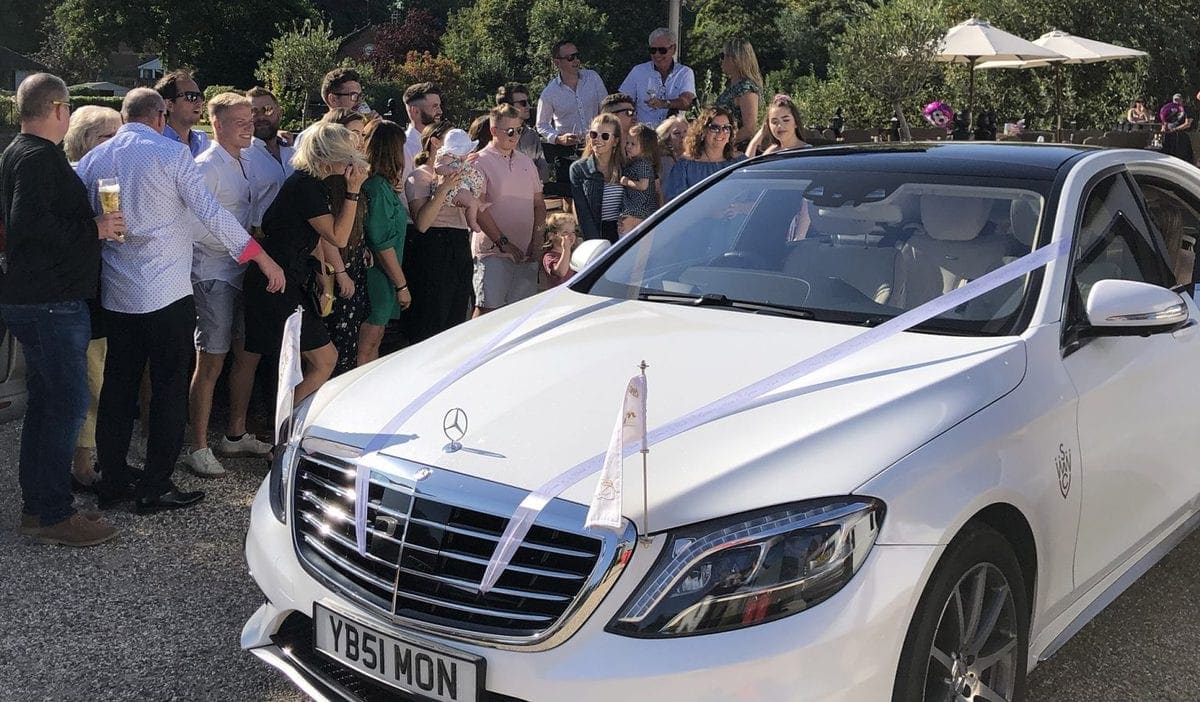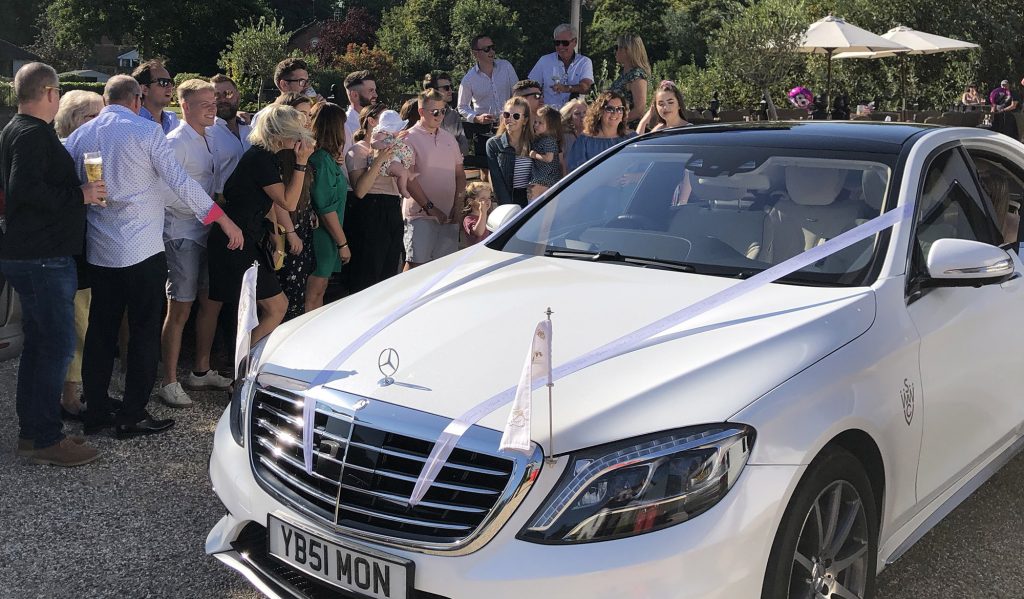 Cars for the Groom
Cars for the groom's party, by now we are hoping you realise we have maybe the only white S63L AMG in the UK. The ultimate wedding supercar for hire. But what if you don't desire a sports car for your groom?
We have the finest and largest fleet of white Mercedes S class wedding cars in East Anglia, if not in the UK. We have at present a selection of four S class limos with all the comfort and luxurious options you need. Both our S500L and S350L executive models have rear massaging seats for example.
The S63L AMG and S500L both have the fantastic Magic body control. All of our S class limos for hire are white with the finest cream nappa leather interiors. Four have heated seating, three have heated and cooling seats plus your own rear climate control.
Privacy, all have privacy blinds as standard. Each vehicle is supplied with our bespoke ribbons and flags. These you can personalise for your wedding theme, with your names and the date of your wedding for example. Please visit our tailor page for more details.
Stretched Limousines for the grooms party
Introducing our Mercedes S Class S500 Pullman. A six door wedding car that can transport up to six people. Mercedes Pullman's for years have been used all around the world to transport royalty and the rich and famous. So in fact in this vehicle you are joining the lucky elite.
This is a real head turner for your wedding day, as well as an ideal car to transport a larger grooms party to the ceremony or wedding venue.
We are hoping in 2021 to add a S600 Pullman also to our fleet. The S600 has the V12 engine also, so again would give you the best of both worlds like our AMG.
We also have an E Class stretched limousine available for wedding transport hire. So again this is a six door limousine, that can transport 6 people.
Luxury wedding car hire
Our finest wedding car hire services are available in London and Essex. We also provide our services in Suffolk, Cambridgeshire and Hertfordshire for your special day.
However we also provide a UK wedding car hire if needed.
Perfect Grooms Car