Luxury London wedding car hire
Simon's White Wedding Cars is the finest London Wedding car hire service available, so London's foremost white glove wedding car hire service. We own an expansive range of luxury wedding vehicles, including a selection of beautiful Mercedes S Class white wedding cars, which are the perfect choice for anyone wanting to arrive at their wedding in style.
Whether you need a bridal car, groom car, or both bride and groom car, our range of gorgeous wedding cars are available for happy couples throughout London. After all, your wedding is one of the most special occasions in your lives, so it is only appropriate that your wedding vehicle hire is just as special! 
For larger bridal and grooms parties, we have a VIP minibus available for your wedding transport.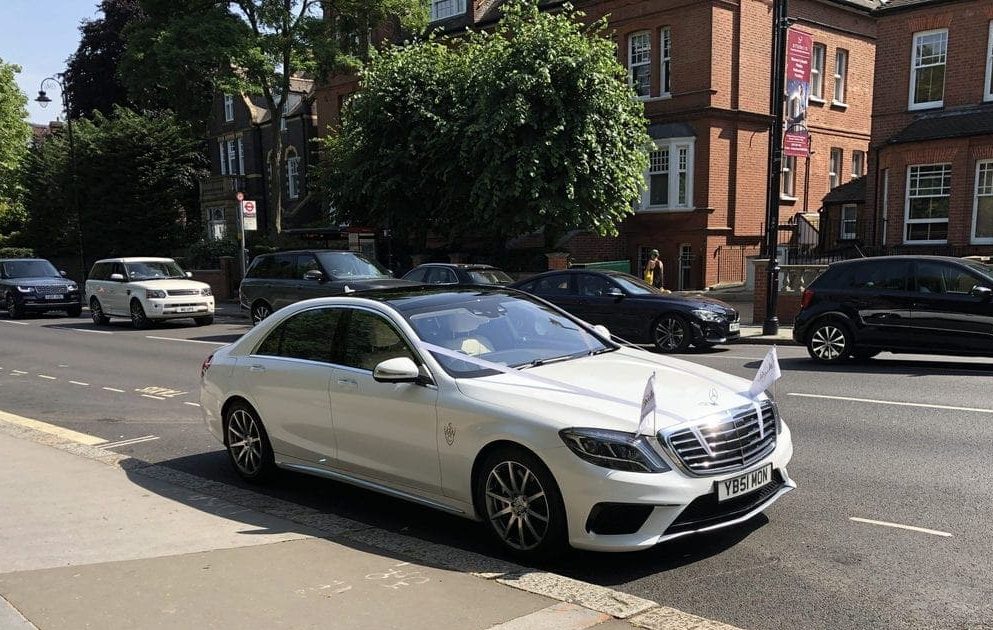 Wedding car hire in London
Choosing your wedding car hire in London is a daunting prospect. There are many service providers available, so knowing what one best suits your needs is not always obvious. Here at Simon's White Wedding Cars, we are confident of providing an unrivalled service befitting of this momentous occasion. 
As one of the biggest days of both your lives, you rightly deserve the best, which is why we always provide the finest white glove wedding car hire service for the big day. From the moment your driver arrives, expect a world-class service that lets you relax and unwind, which is certainly welcome given how nervous you are likely to be!
A professional chauffeur is with you the entire journey, catering to every need before you even step inside of the vehicle. Their goal is to ensure the well-being of you and your wedding party, with every detail covered to guarantee a first class service that will be one of the many highlights of your wedding day in London.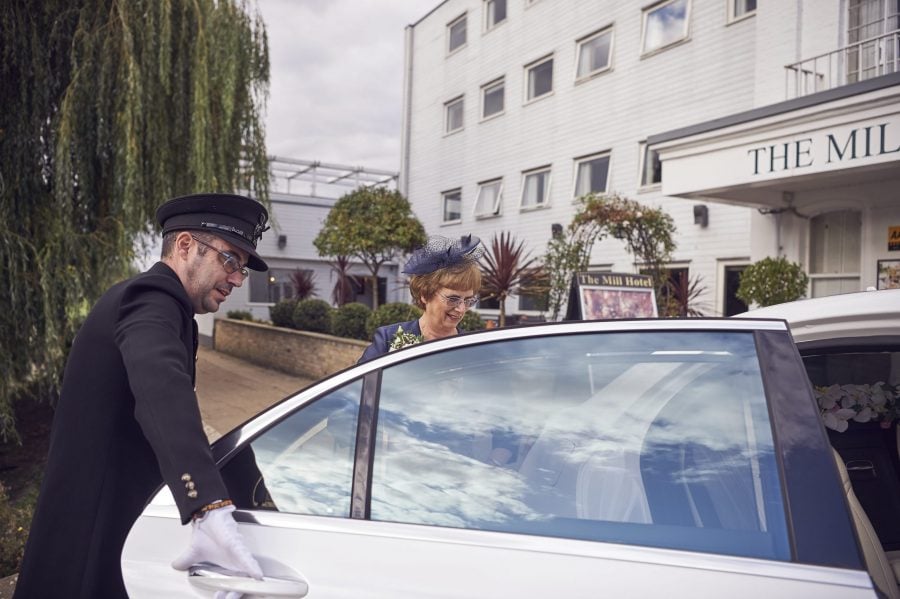 Luxury wedding vehicles to hire in London
No UK wedding car hire company includes more in their service that we do. From complementary branded champagne to beautiful silk ribbons and wedding flag décor, we go above and beyond to provide only the best wedding transport.
Moreover, you can upgrade various aspects of our service, so if you want to enjoy some Moët & Chandon or have your chauffeur dressed in a particular uniform, we have got you covered. Please visit tailor-made page for all the info you need.
Your wedding day
Every wedding is different. Couples have their own wants and needs when it comes to their special day, which is why we made it easy to personalise every aspect of our wedding car service. Whether it's a classic, vintage, traditional, or modern wedding theme in London, our bespoke service makes it easy to tailor your wedding vehicle to your exact needs.
We have extensive experience as a wedding car service provider in London, so are confident that we can exceed all expectations and ensure everything goes off as planned.
Whether it is picking you up at 8am from Croydon and dropping off a Crawley for the start of the service or taking you to a spot for wedding photographs before the ceremony, we are happy to meet all your chauffeuring needs during the big day.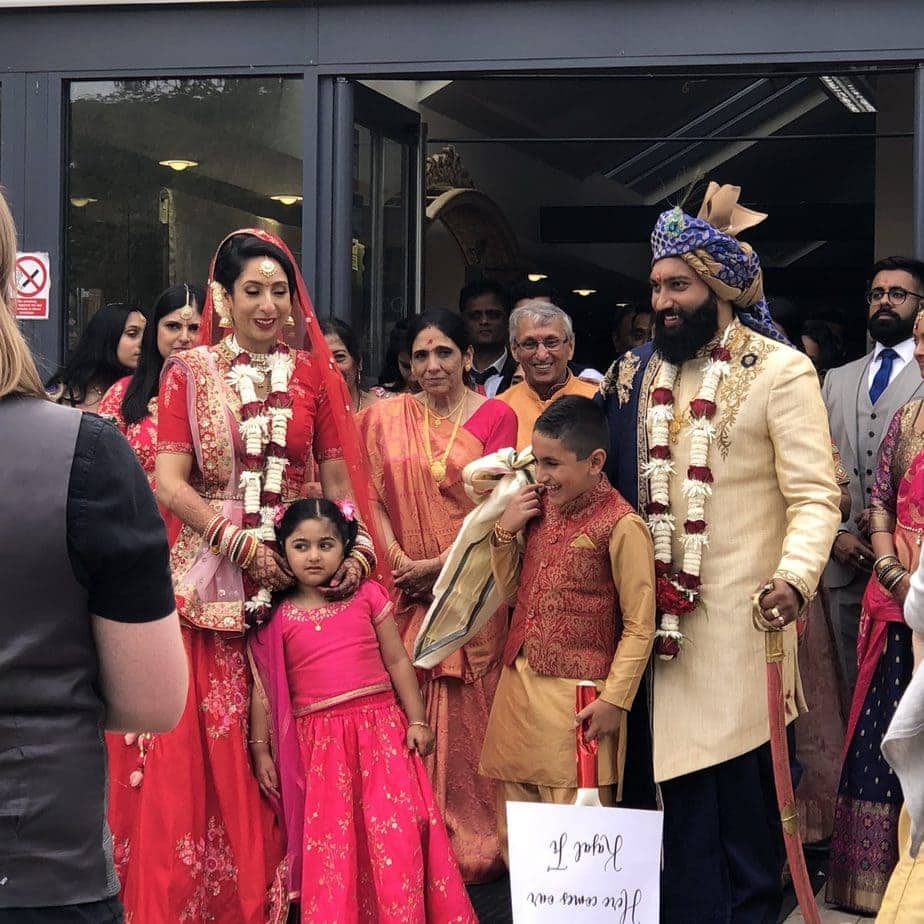 Wedding cars London
Simon's White Wedding Cars supplies the finest fleet of modern white Mercedes S class wedding cars. All our S-class limos feature gorgeous cream leather interiors, as we feel that is the perfect colour for inside of a wedding cars, adding a touch of class and elegance.
Additionally, most of our fleet have heated and cooling seats for you comfort, so no matter the climate you stay nice and comfortable to and from the wedding venue.
Our Mercedes S63L AMG is probably the only white wedding car in the UK in this class. Both the S63L and S500 have incredible Magic body control – the nearest comparison we can think of is like riding on a magic carpet.
Also, we have two classic six-door stretch limousines available for hire in London. This includes the Mercedes S-Class Pullman, a popular choice for luxury transport amongst the rich and famous. We also have an E-Class owned by a royal family, befitting for treating the happy bride and groom like the royalty they are.
Of course, words only tell half the story. We have heard many nightmare stories about couples expecting a premium wedding car as advertised, only to be left disappointed with a something that is far less quality.
To ensure all our customers know exactly what they are paying for, we provide a virtual 360-degree tour of every vehicle. This lets you see the interior of the wedding car and their overall quality. Also with the ability to zoom in throughout the cabin to ensure you know how everything looks.
Please visit our wedding cars page so you can see the interior of any vehicle yourself – on some models you can even watch our video on the screens.
Booking your London wedding Transport
Planning a wedding is stressful at the best of times, so our goal is to make hiring your wedding transport in greater London quick and easy. Our booking system shows the exact price of any booking, so you know precisely what you are paying – we don't have any hidden fees or costs to worry about.
How easy is this? Well, just enter your desire wedding date on our wedding car hire page and the system shows all the available wedding cars for hire in London on that day – it couldn't be easier!
You can also use our quick guide to determine the mileage needed for your wedding car. Simply choose London from the drop down menu. Then followed by the nearest town from where the wedding car hire is required, and then your mileage is shown.
If you are happy with the mileage, you can then add it booking page and are shown the price from here. Finally, select any of the upgrades of personalisation options for your wedding cars. If you don't need any of these just select standard and you are good to go!
We don't stop there though, as once your London wedding transport is booked, we also provide a selection of payment options, allowing you to choose a payment that best suits your needs and budget.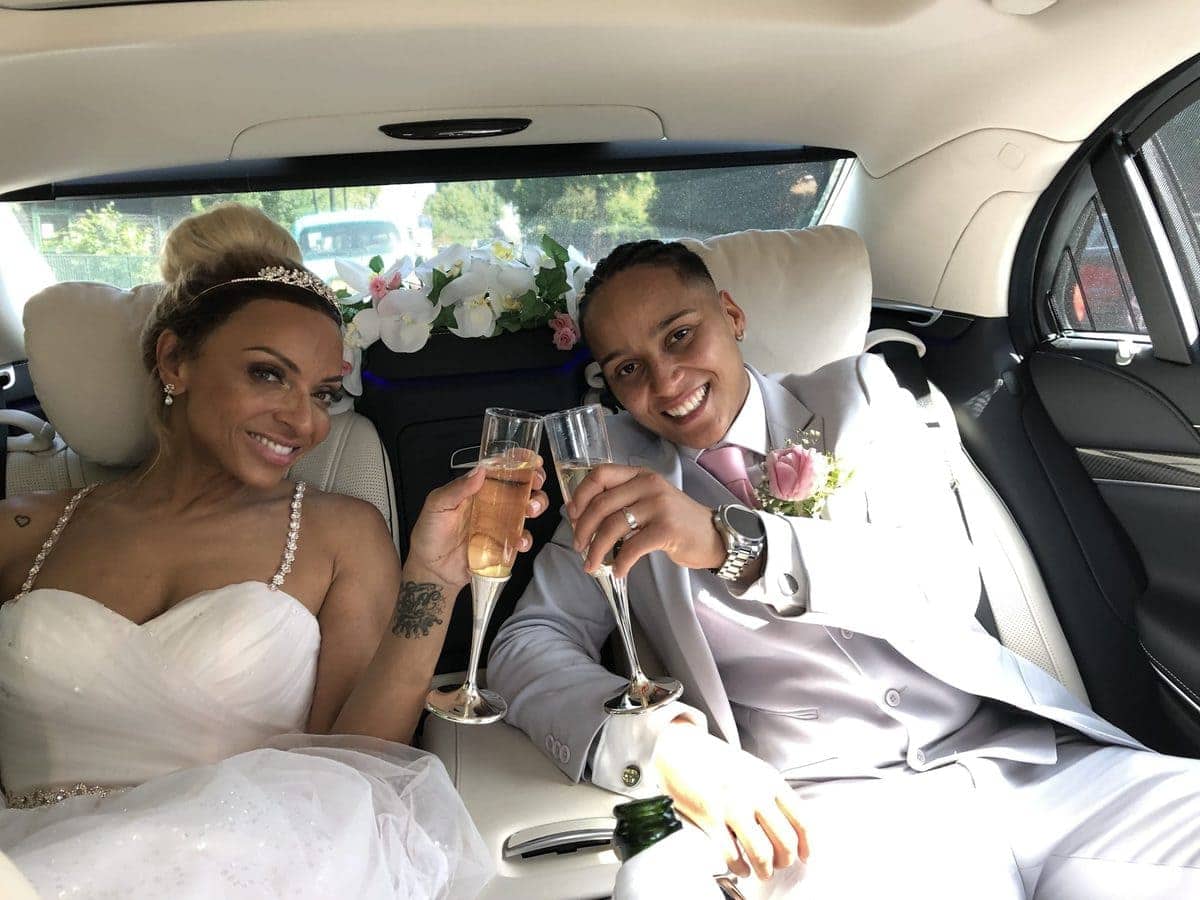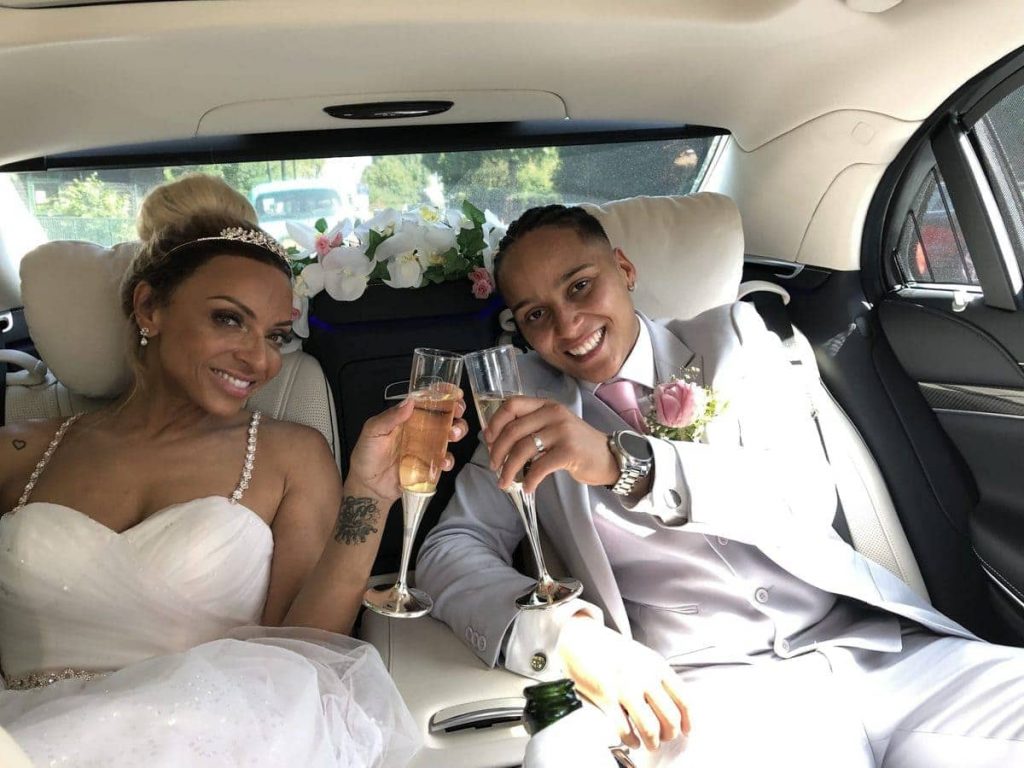 Our standard wedding vehicle hire
Simon's White Wedding Car hire service is about more than providing a luxury wedding car and driver. Of course, luxury cars are nice for a wedding, but we are about supply a luxury experience on your big day.
It is why we provide the finest white glove car hire service, as standard. What exactly do we consider standard for our premium wedding car hire service? Well, it's safe to say we go above and beyond for our clients, with all of the following included as standard with every wedding car hire:
Included as standard.
We go above and beyond for our clients, including all the following standard items and services with every wedding car hire.
White Glove Chauffeur Service – Enjoy the ultimate wedding day VIP experience.
Chilled bottles of still fresh water.
Mints
Cooling towels.
White umbrellas and blankets for Your wedding day wellbeing
Phone charging kit.
Serviettes and tissues.
Sewing Kit for emergency Repairs.
Silk flowers.
Need to hire a local wedding car in London
Are you looking for a wedding car for your local wedding in London? No matter where you are or what you need, Simon's White Wedding Cars has you covered.
Whether it's wedding day transportation in Mayfair or the City of Kensington, a classic six-door stretch limousine or modern luxury vehicle, our fleet of wedding car are available throughout greater London.
Decorating your wedding car
Does your wedding follow a specific theme that you want the wedding vehicle and chauffeur to match? We have got you covered with our extensive range of chauffeur uniforms. Also luxury wedding décor for every vehicle, ensuring everything looks exactly the way you want it to.
Wedding vehicle décor includes bespoke flags, ribbons, and flowers strewn across the back window, all included as part of your hire service. White or gold are standard colours for flags, so you can select one for the main colour and the other for the writing on the flags.
Similarly, ribbons are available in white or gold with reverse colour for emblems and any writing you might want included.
Of course, we understand that you may want a different colour scheme for your wedding car décor, so other colours are available upon request . Please contact us for more information.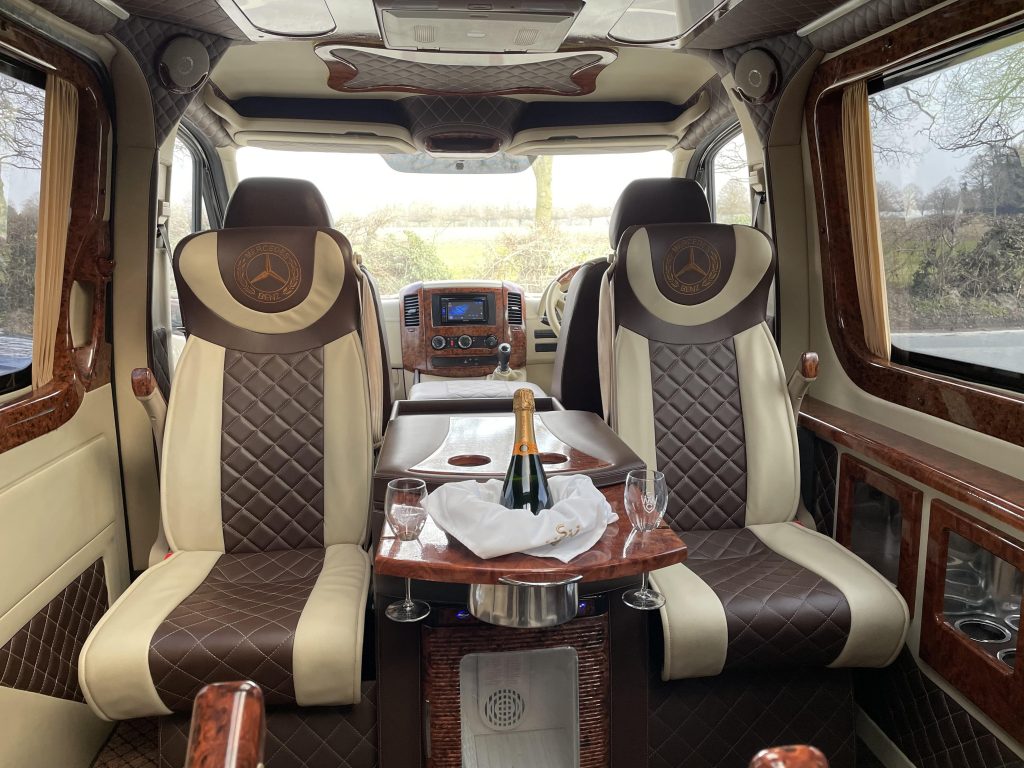 Finest chauffeur driven wedding cars
It is no exaggeration to say we provide the finest chauffeur driven transport for London weddings. Doing so ensures that you are never left wanting, as our service accommodates all your unique needs and preferences. Thus ensuring your big day goes off exactly as you dreamed it.
Once your driver arrives to pick you up, the VIP treatment begins. Relax and unwind in the ultimate style as they chauffeur you to the wedding venue. Catering to any needs you might have, from protecting your hair with an umbrella to serving a few glasses of chilled bubbly before you set off.
Consider your driver more of a butler. There is no request they won't meet, as their goal is to ensure your upmost comfort and relaxation during your wedding day transportation. They go above and beyond most other drivers, which is possibly why we are seeing such high demand for London wedding car hire.
Of course, don't take our word for it . Just check out some of the many reviews left by our satisfied customers!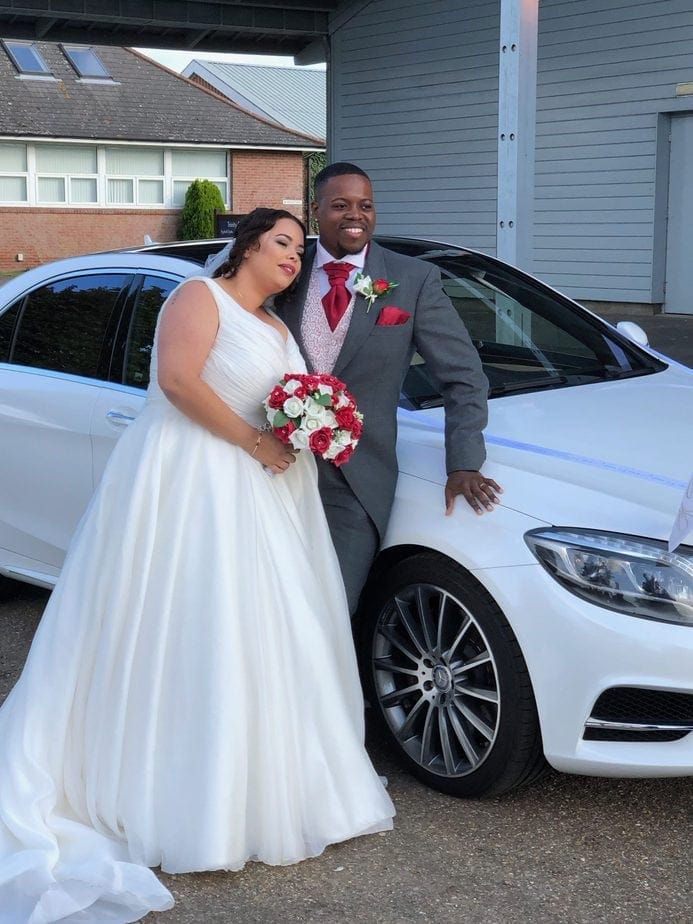 Additional chauffeur driven services
Along with our chauffeur driven wedding car service, we also offer the following services in London:
Luxury Yes to the Dress Transport – Enjoy a luxury shopping experience of a lifetime available for up to six people
Finest Luxurious Honeymoon Transport. Let us drive you to any London airport first class style so that you can continue the celebrations as newlyweds!
Luxury wedding cars London