VIP Wedding Minibus Hire

Our minibus wedding hire in Essex, London and East Anglia. Enjoy the finest VIP minibus hire for your wedding day. Chauffeur driven with our white glove service to your wedding venue or ceremony.
Our VIP wedding bus hire prices start from £390 for a standard 3 hour hire. These luxurious minibuses can carry up to 8 passengers for your special day and has all the luxury amenities for your ultimate comfort.
So if you are looking to hire the finest chauffeur service together with the most luxurious minibus hire, you are in the right place. We will provide the ultimate first class service and VIP minibus hire for your wedding day.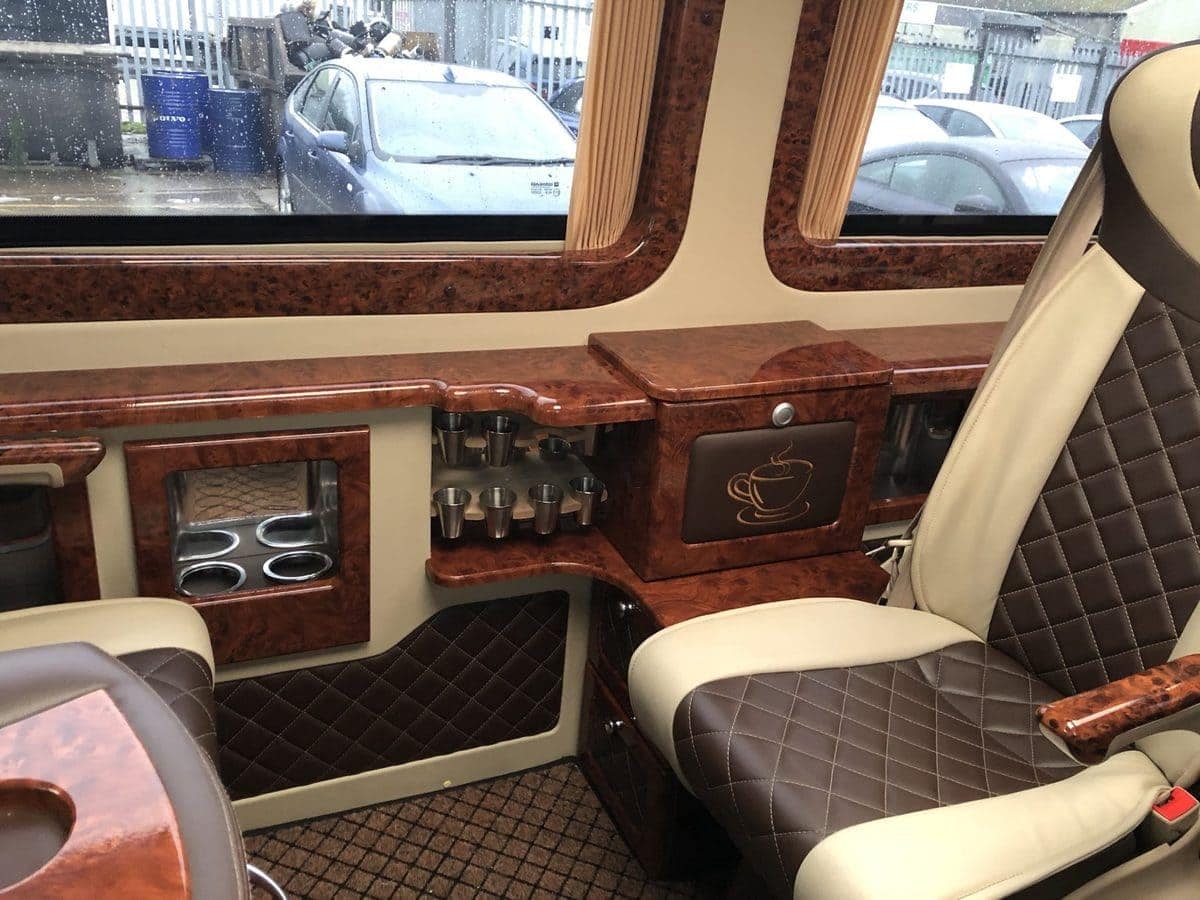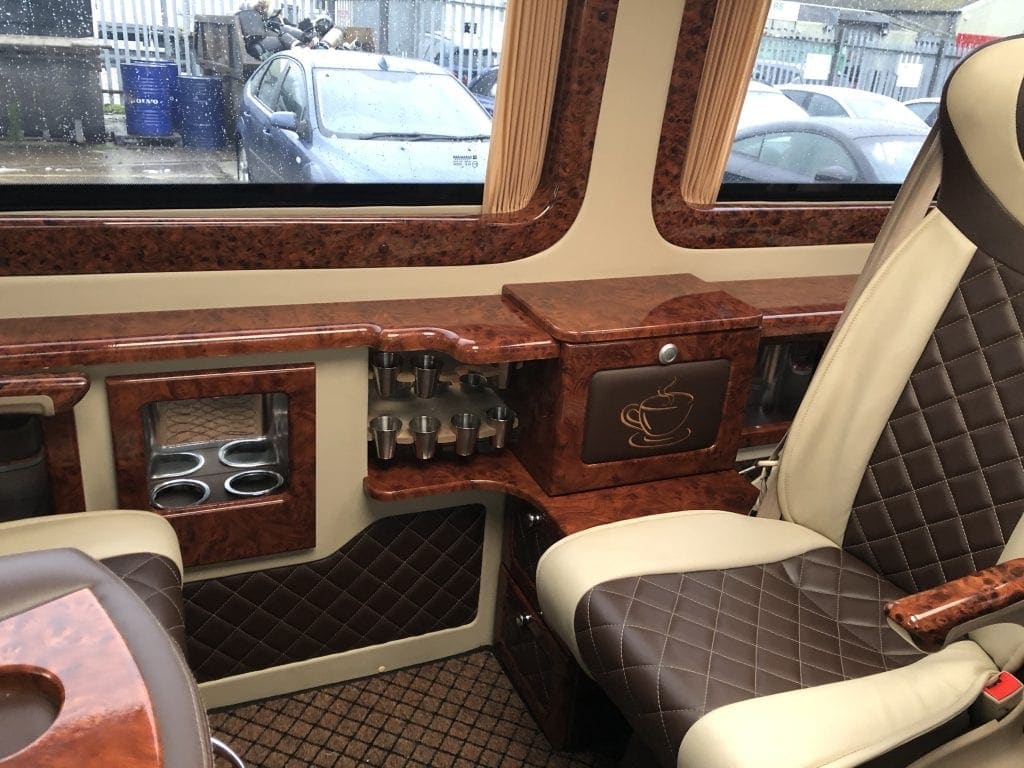 Wedding Minibus hire near me

Our wedding hire services are available in London and East Anglia. So if you are looking to hire a local VIP minibus for your wedding day, we have you covered.
The counties of Essex, Suffolk, Hertfordshire and Cambridgeshire are all available for an instant quote on our booking system.
So whether your big day is in Chelmsford, in Essex, Bishop Stortford or in Hertfordshire, we can provide the finest white glove wedding minibus hire.
Being based on the Essex Suffolk border we are ideally located to deliver our chauffeur service for your wedding party.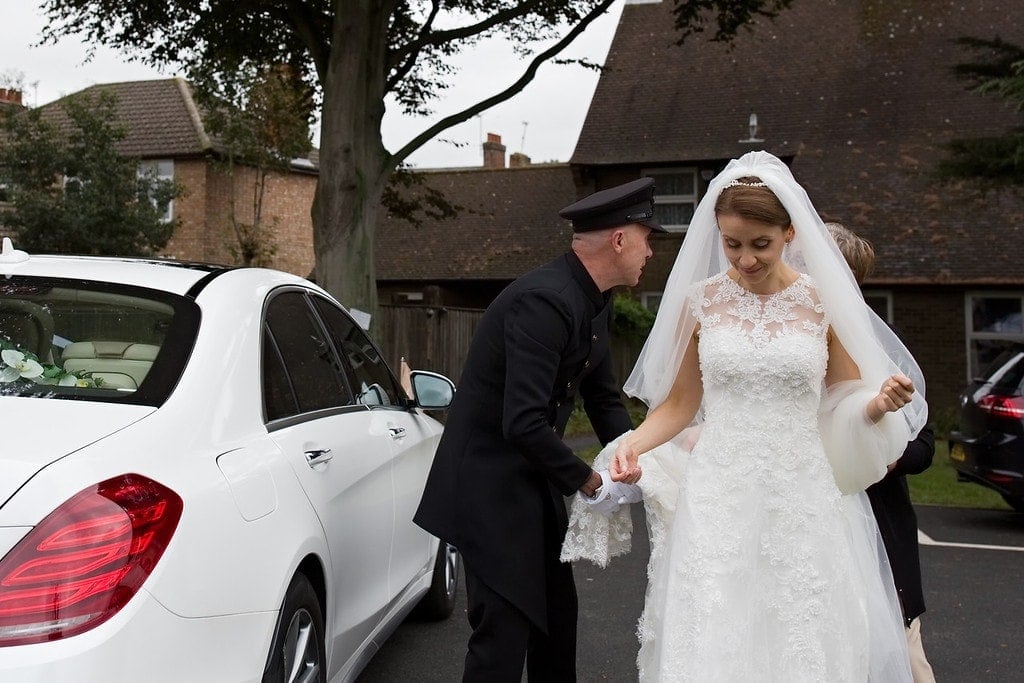 Luxury interior

Our Mercedes Sprinter minibus provides the finest comfort and amenities for your wedding transport requirements. The bespoke luxury quilted reclining leather seating ensures your comfort.
The finest climate control system will kept you at the right temperature for the journey.
Privacy curtains can be used if needed, a media screen can play DVDs or music of your choice.
Add mood lighting if desired for your relaxation. Finally a coffee machine and fridge is also standard, the fridge will be as standard filled with bottled water. However we can supply different beverages including alcohol for example.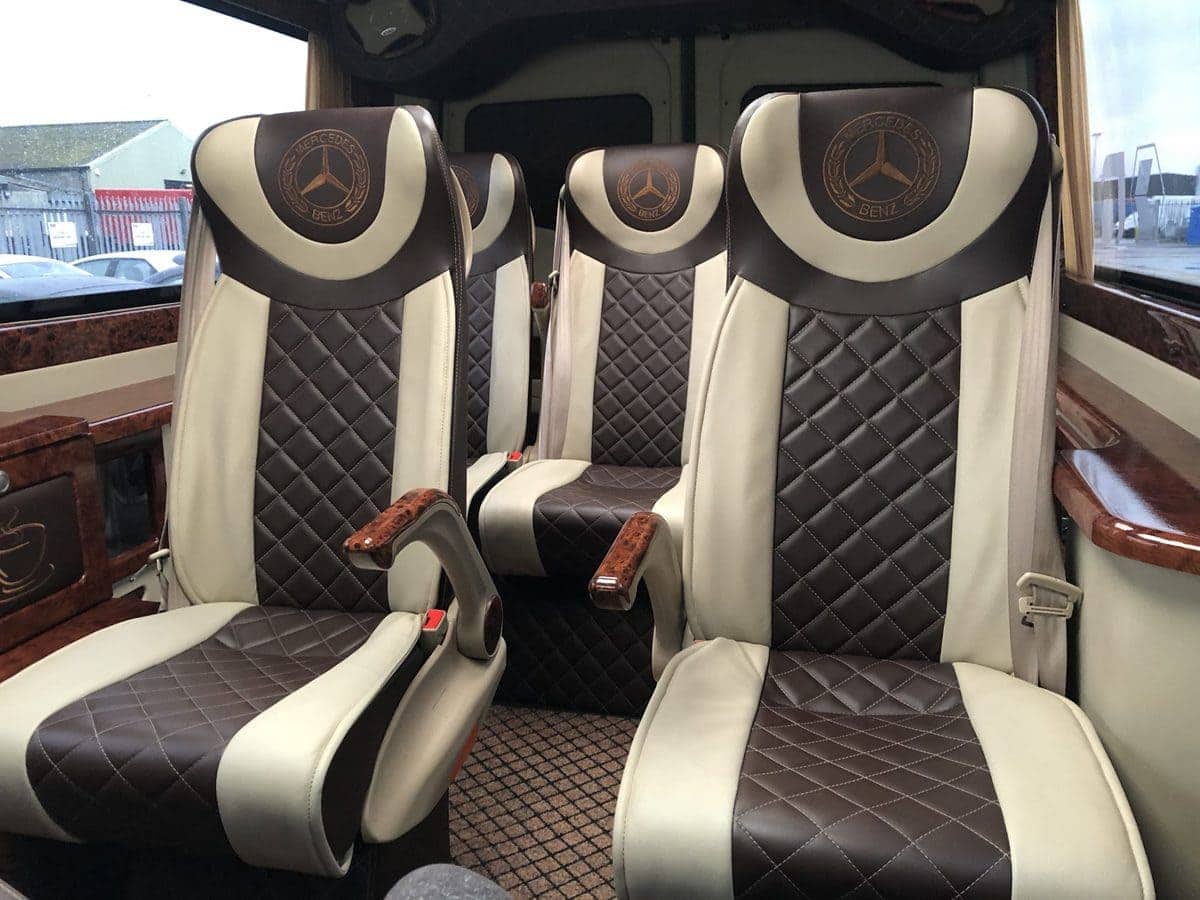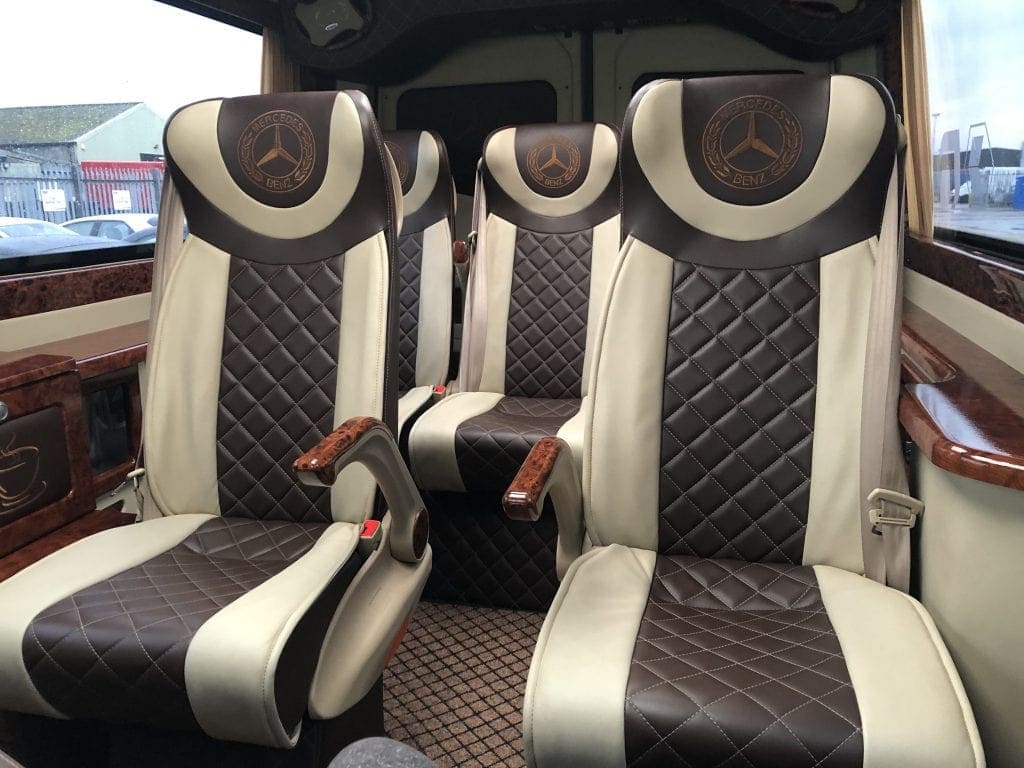 Booking your wedding minibus hire

Booking your wedding minibus hire is easy with our instant quote and booking system. Just enter your desired date and we will show you our available vehicles.
Select the Mercedes Sprinter VIP minibus.
Then select the mileage package you require, we have an easy simple mileage guide. Just select the county and the nearest town to your desired pick up. EG. Select Cambridgeshire and Cambridge, the guide shows 75 mile package is needed.
Now select any options you would like to add to your hire. You can add personalised ribbons or flags, even upgrade your champagne for example.
As you add the details, the price of your wedding minibus hire will adjust to show you the true cost at all times. To book, just click book now button.

Chauffeur driven minibus hire

Chauffeur driven, we don't just drive you! We drive to serve you, providing the finest white glove chauffeur experience. Expect the most luxurious service from our professional chauffeurs for your wedding vehicle hire.
Our chauffeurs are here to ensure the well being of you and your wedding party on your big day. As a result our chauffeurs observe at all times to ensure your requirements are met. Often before you even realise the need or have had the time to ask.
Consequently this was why Simons white wedding cars was created, to supply the ultimate luxury chauffeur driven wedding vehicle hire company.
A company that knew the importance of the small details. Also that the service should be more important than the product. Consequently a wedding car company that cared for all your wedding party.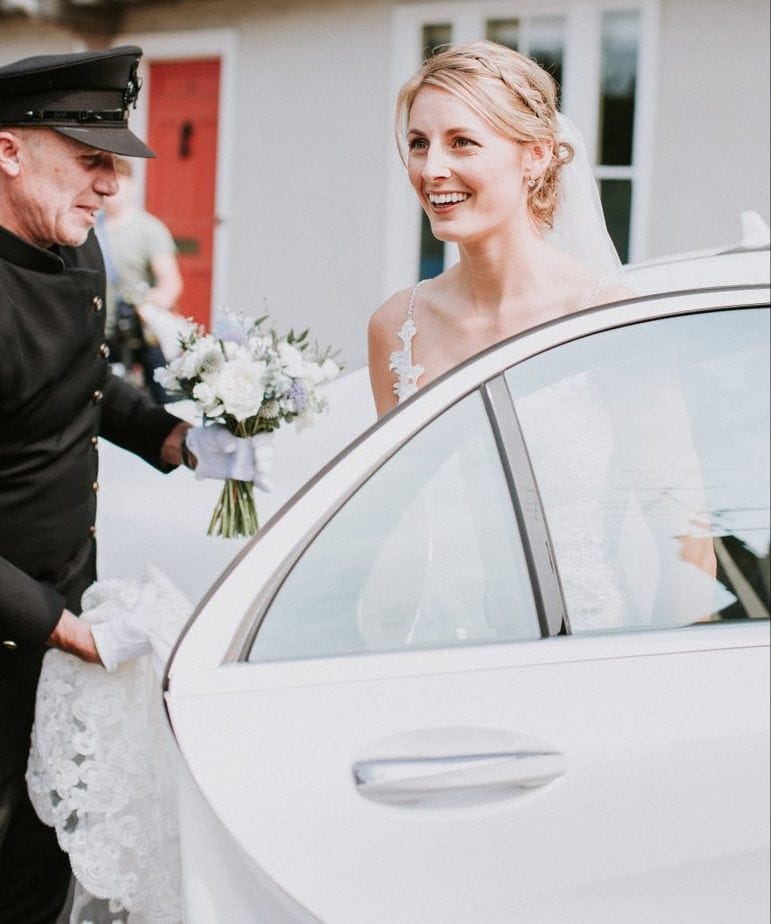 What to expect

Expect a first class service, an immaculately dressed chauffeur, a vehicle that is recleaned on arrival. Furthermore during the hire period at every opportunity the vehicle is cleaned and hoovered.
A chauffeur who is indeed more like a butler, offering mints, cooling towels and bottled water to you and your party. Hence nothing is too much trouble for them to maintain your well being and comfort.
Also umbrellas, blankets are all provided as required, we even carry phone chargers and sewing kits. Hence we are prepared, to ensure your wedding day runs as smoothly as possible.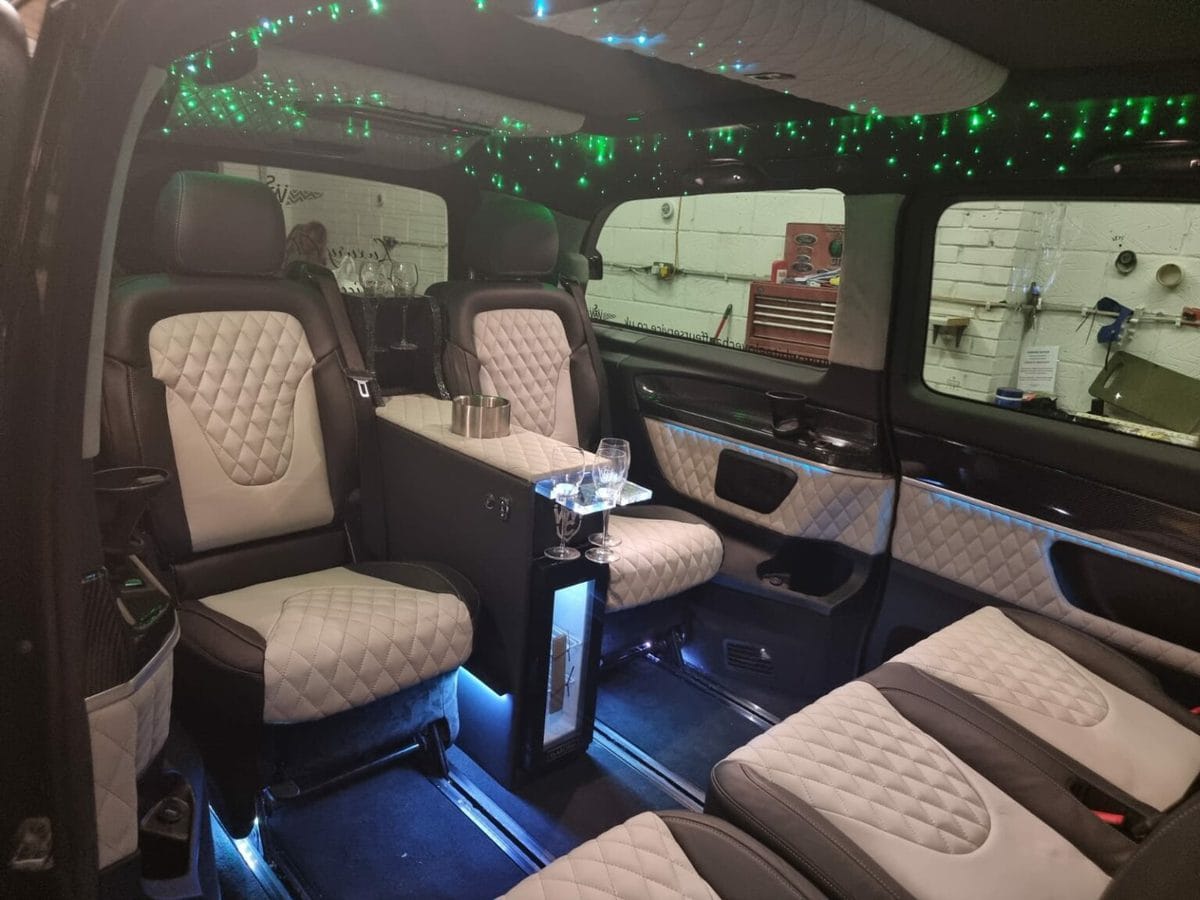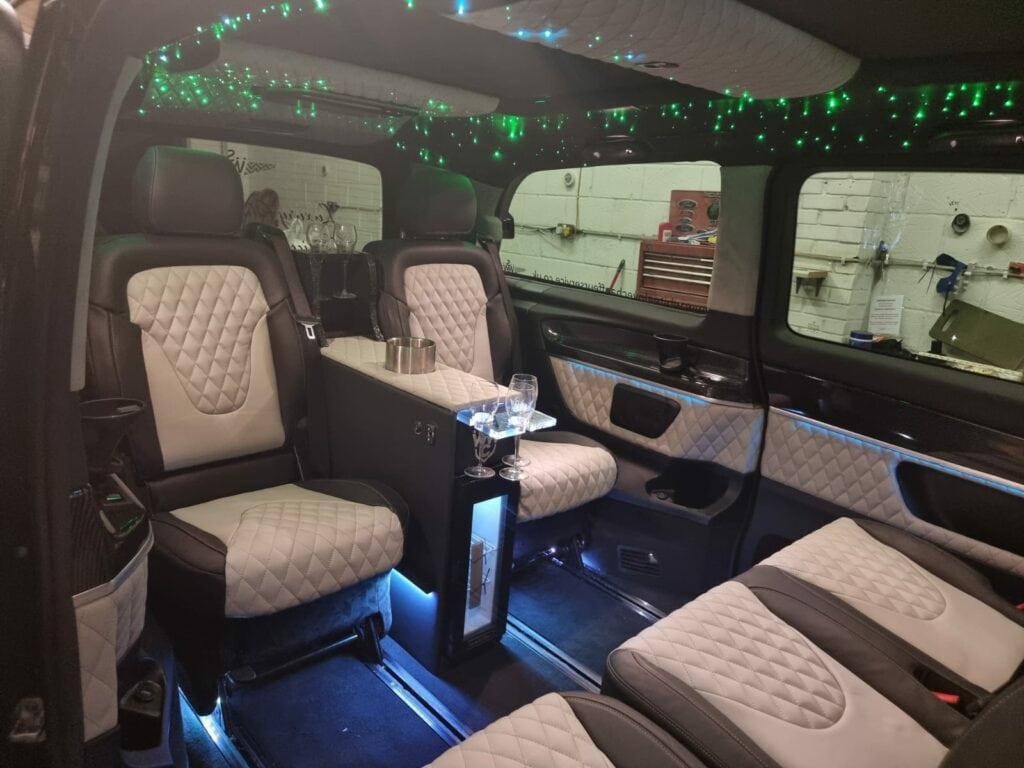 Options for your minibus hire

We provide more options for your minibus hire than any UK wedding vehicle hire company. So we wanted to offer you the choice to match and enhance your wedding theme. Providing choices that would easily fit any classic, vintage or modern wedding theme.
So choose from 6 chauffeur uniforms or even upgrade your free branded champagne. Also choose to personalise the wedding car flags or ribbons. We can add your names and the big day date to them.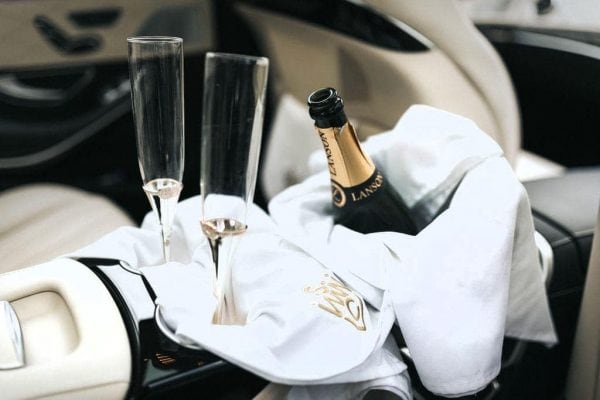 Included in our wedding minibus hire

So included as standard in our VIP wedding minibus hire.White glove chauffeur service
Free branded champagne (if being used by the happy couple)
Or 2 bottles of Prosecco
Cooling towels
Mints
Coffee
Chilled bottled water
3 hr hire
Ribbons
Luxury VIP minibus hire for your wedding is available in London, Essex and Suffolk. We also cover the counties of Hertfordshire and Cambridgeshire.Wedding photo by. Neil Fortescue.