Our Luxury Wedding car service Suffolk, Essex, Hertfordshire and Cambridgeshire.

When arranging transportation for your wedding day, there are lots of things to think about. As well as searching for a wedding car business that fits your style. Ensure you are booking a trustworthy company so you can be confident you'll get to the wedding in plenty on time.  
If you're in the process of finding your wedding car hire service in Suffolk, Essex, Hertfordshire or Cambridgeshire  and you're feeling a bit stunned, don't panic. – We have it all covered.
Here are some of the most frequent questions asked about wedding car hire. Answered so you'll have no trouble finding the perfect wedding car without worry.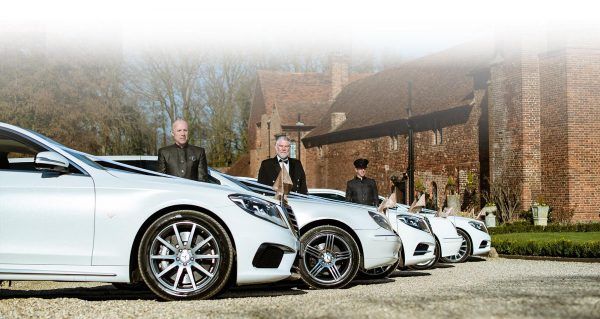 How many wedding cars will we need?
The number of wedding cars you'll need depends on how big your wedding is. The minimum you'll need is one, which carries the bride and usually the father of the bride to be at the wedding venue. If you're trying to stick to a limited budget, then the rest of the party can travel in taxis or drive. Most weddings will use two of our wedding cars.  
After the wedding, one wedding car will be needed to transport the grinning couple to the wedding reception venue. So you'll need to think about how the bridal party, parents and groomsmen will get to the party.
Who travels with who?
Traditionally the bridesmaids and mother of the bride travel together. The bride and father of the bride travelling in a separate wedding car. You may also want to arrange a vehicle for the groom and his party to the venue too. Of course as with all weddings. There are no set rules, and you should always do what works for your wedding day!
How long do we get with wedding cars?
This question is a simple one to answer: how long do you need?
Do all wedding cars come with a driver?
We will always provide a well mannered and suited/booted chauffeur.
What happens if the driver's unwell?
We are a reputable company; we will have contingency plans in place for situations like this.  As a family-run business, our quality of service is at the forefront of our ethos. Please remember, we started this wedding car business because we struggled to find a quality wedding transportation service.
What is the cost of the wedding car hire?
Again, this is dependent on the hours you use. Prices start from around £270.00 and increase depending on the model of car and how long your journey is. Remember, we have our overheads like insurance and fuel!
Will the distance of the journey affect the cost?
We will always quote upfront, and you will never pay anything more. We're sure you'll understand that the further we go means more fuel and time.
When will we need to pay the final balance?
We will speak to you about this while booking your wedding car hire. We tend to take booking costs upfront, mainly because most couples will go on a honeymoon, so we don't get paid for weeks. You wouldn't pay for your wedding dress weeks after using it.
Who decorates the wedding cars?
We love our cars, and you might already know the answer but it's Simon and the team who decorate the vehicles. You can tell us what style you'd like, we will match your taste without question.
How long before the big day should we book with you?
Book your wedding car as early as possible. Like with many wedding suppliers, car companies will be taking bookings up to a couple of years in advance, so make arrangements nice and early to avoid any disappointment! You may call one week, and we are free, call a week later and fully booked. If you know your wedding details, book now.
Luxury wedding car fleet for hire in Essex, Suffolk, Hertfordshire and Cambridgeshire