Simon's White Wedding cars at Martels
We are pleased to announce that we have opened an office at the fantastic Martels wedding village in Essex. Martels wedding village is based in Barnston, Dunmow Essex. So, ideally placed placed between Braintree, Bishop Stortford and Chelmsford for all your local wedding day needs. Thus making it easier to book our luxury wedding car hire.
As well as having an office and showroom in the Braintree district, we will also have our luxury wedding cars available to view and enjoy on the upcoming open days and wedding fayres at Martels.
This will also make it easier for couples to be planning a wedding in Hertfordshire and London to come and meet our team and view the luxury wedding vehicles for hire.

The wedding village
Martels wedding village near Braintree in Essex is the ideal place to visit any time if you are planning a wedding or event. Open 6 days a week, Mon-Fri 10:00am – 4pm and 10:00am – 5:00pm on Saturdays.
The fabulous showroom has over 20 different wedding suppliers on display, making it easier to plan your perfect wedding day. Be inspired from the latest wedding trends and themes on display.
Traditionally, the only time you get to see so many wedding suppliers is at a congested wedding fayre. So, Martels is the perfect answer to avoid the crowds and spend some quality relaxed time planning your wedding.
So, a warm welcoming atmosphere awaits you at Martels wedding village. Consequently, you get to view and talk to the fantastic suppliers on your terms.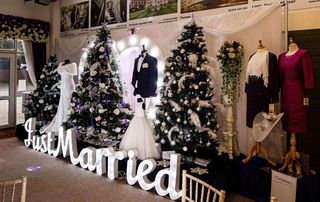 So what's at the village
Martels wedding village has over 20 wedding suppliers on show, so in fact you could book your entire wedding day's requirements.
Also, rest assured that reputation is everything. Therefore every supplier is carefully chosen to deliver the ultimate customer care and quality for your big day.
From the finest suits for the groom or the most glamorious wedding dresses for the bride to be. A photographer or videographer for your special day. Beautiful bouquets and stunning wedding cakes.
Choose your evening entertainment from Djs, singers and a magician. Arrange the finest meals for your guests or your hair and make up for the morning of the main event.
Of course the finest luxury wedding transport and the most splendid wedding rings.
Every thing you require to make your wedding day the finest experience for you and your guests. There is even a wedding celebrant, so Martels wedding village has it all.
The answers to all your wedding questions and needs under one roof. In fact, a 6 day a week luxury wedding fayre for your convenience.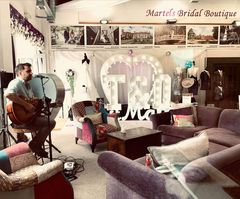 Your wedding day well being starts here
Planning a wedding can be very stressful at the best of times. So many places to go and people to see. Also with so many choices to make on the way with your new partner to be.
Therefore Martels wedding village are pleased to offer the most relaxed atmosphere. Enjoy the experience at your leisure and comfort, the wedding village that offers you a complete wedding choice.
All under one roof, six days a week, with ample parking. Take comfort that Martels have taken the stress out of your wedding planning. Relax and enjoy the friendly atmosphere at Martels wedding village.
Speak to over 20 specialists wedding suppliers pressure free, for their expert advice for your wedding day. Suppliers that are dedicated to making your dreams become reality for the special day.
At Martels we look forward to making your wedding the best day of your lives.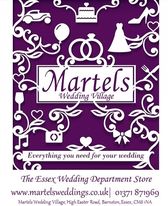 The finest wedding car hire
Simon's White Wedding cars provides the finest luxury wedding car hire in East Anglia and London.
We are a company that believes in supplying the ultimate luxury experience for your wedding car. Our ethos is based upon old fashion values of service and grace.
Values that are based around delivering the finest first class service with our white glove wedding car service. A service which caters for all your needs and possibly some that you don't even realise you require.
Consequently, no other UK wedding car company offers more included as standard and cares more about your well being. So, we are so glad to be part of the Martel's wedding village team.
We care about your wellbeing and that of your wedding party. So, for this reason we choose to run a fleet of modern Mercedes S class limos. All our s classes are the long wheel base model, providing ample room in the back for even the biggest wedding dress.
Also, our S classes are some of the highest spec models in the UK. This is to endorse our commitment to your wellbeing and comfort. The comfort and wellbeing that you just do not get in most classic, vintage or even camper vans.
However, our wedding car hire is about the luxury service that your white glove chauffeur delivers to you. A service where they are often compared to a butler.
To view an example of our luxury wedding car service on your wedding day, please click luxury wedding chauffeur.
We look forward to meeting you at Martels wedding village to discuss your transport needs for your wedding.